Super Bowl LVII Preview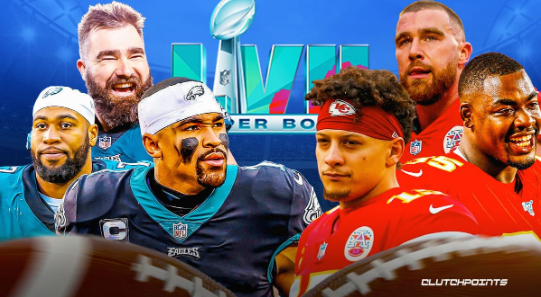 Super Bowl LVII is going to feature the two number one seeds in the AFC and NFC. The Kansas City Chiefs will be representing the AFC, led by star quarterback Patrick Mahomes, whilse the NFC is led by the Philadelphia Eagles and their young breakout quarterback Jalen Hurts. Both teams have excelled this year, especially the Eagles who started off the season 8-0 with their stacked team which Inlcudes players like A.J. Brown, Jalen Hurts, Jason Kelce, Lane Johnson, DeVonta Smith, and recent acquire C.J. Gardner-Johnson, who has had an outstanding season with six interceptions tied for 1st in the NFL, however that's only a few of good players on the Eagles. For the Chiefs, their start wasn't as good as the Eagles their start was still very good but they were not undefeated until midseason.. The Chiefs now have, in my opinion, the best quarterback in the league, now that Tom Brady is retired. Patrick Mahomes II is a very talented quarterback, maybe even the most talented of the 2020's, so far. The Chiefs also have arguably the best tight end in the league right now, Travis Kelce, who is also brother of Eagles center Jason Kelce. This will be the first time a Super Bowl will feature two brothers in it. 
A lot of fans of the NFL want Momma Kelce (Donna Kelce) to flip the coin for the Super Bowl this year, They have a petition going but Momma Kelce said she does not want to do it and the Military is more important and should be repspected and they deserve to do it more. I wish she would do it but the Super Bowl is honoring Patrick Tillman, a former Arizona Cardinals safety, who left his career in the NFL to go serve in the Military after 9/11, however would later pass away from friendly fire in Spera, Afganistan on April 22nd, 2004. 
The Eagles are a really good team with a really good fan base, according to NFL fan base rankings, the Eagles are number four in the whole league, which is better than the Chiefs who sit at the thirteen spot. This could be a big factor in the game the fan base helps with momentum which helps win games, Its like bringing home court advantage away. I think this will be a very loud game a lot of dieheart fans in the stands cheering until they can't.
This Super bowl is going to be a good one, and I can't to watch these team battle out for the W. It's going to be a close game and very fun to watch, I like both of these teams, but I would rather like to see Jalen Hurts start his career with a Super Bowl win. I believe it would set him off with a really good start to a long successful career. However, it would also be nice to see Patrick Mahomes win another Super Bowl, and make his way to being the greatest player of all time in the NFL and solidify a spot in Canton with all of the other greats. This is going to be a very good one, and I hope the game is high scoring.