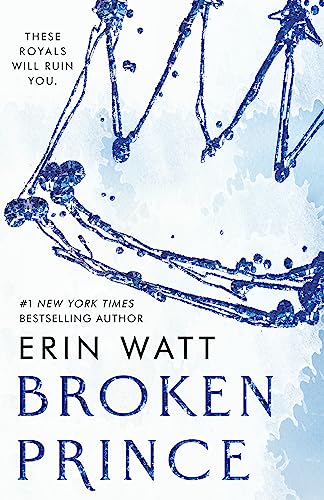 Broken Prince is the second book in The Royals series, acclaimed by The New York Times Bestseller young adult fantasy pentalogy by Erin Watt. Broken is a book full of tension, emotion, and plot twists when you least expect it. This book will give you a different perspective on what people go through and different types of human behavior.
Ella has been missing for three weeks and the entire Royal family is falling apart. Reed has gotten into 2 fights, not including the ones on the dock. Callum has been working with PI non-stop, and none of the brothers are talking to each other. Callum has just got out of the principal's office with Reed because of a fight Reed got into. He tells Reed he needs to stop getting into fights, to grow up. He also says to tell his brothers to come straight home after school because the PI has finally found Ella.
When Ella's bus rolled into Bayview, she wasn't ready to let go. Reed broke her and she should've known better. She was in Bayview for three weeks before Callum found her, he used every threat in the book to get her to come back and broke many laws. She packed her bags again and waited for Durand to give her a ride back to the mansion. Callum was waiting for her when they pulled up. He told her he knew why she left. She was shocked, but Callum said it was because of when she got drugged. She relaxed, knowing that he didn't know the truth. 
Callum leaves her alone and when she goes to close the door it flies open, and a pair of arms wrap around her. She quickly realizes it's Easton, she tries to let go, but he just holds on tighter. He eventually lets go and walks out without a word. She shuts the door and hears the automatic lock. Callum locked all the windows and had a fingerprint scan on the door so no one could come in without her permission. She starts unpacking when Reed pounds on the door trying to let himself in. She ignores him, but he threatens to get a toolbox, and she immediately opens the door. He looks at her and says she looks thinner and that she hasn't been eating. She tries to close the door, but he pushes past her. He explains that he didn't sleep with Brooke that night. She asks how many times he has, and he says two, maybe three times because he was drunk. She says that they are over, but he just steps closer to her and explains that he made a lot of mistakes before she came into his life. But she just shoves him out of her room and slams the door in his face.
The next morning Ella calls Val and says she ran away but isn't ready to explain why. They make plans to hang out in an hour. She takes a shower and gets dressed. When she opens the door, she sees Reed standing there and quickly slams the door. She can't go out the window because of the alarm, so she opens the door and just walks past him. He apologizes to her and flashes a smile. She gives him the silent treatment and gets breakfast.