Will Your HP DeskJet 2630 Wireless All-in-One Printer Become Sentient? Scientists Say Yes
A regular hard-working man, woman, or student would be required to always have an equally hard-working co-worker. Often it is the printer. A staple in office equipment or a school's library and runs on outrageously overpriced ink. You and I know that running printers can be a difficult endeavor, maybe the ink ran out or the printer decided not to print correctly. Some put their anger to the printer itself‒however, slamming the printer can lead to some unforeseen consequences.
Scientists in NASA have reported that printers have been siphoning computer data during multiple space missions to the Moon and Mars. The "patient zero" printer that started it all was an HP printer owned by one employee in the IT Department, Jack Ranger, who used the printer to send unsolvable sudokus to a nearby SpaceX office. However, after the SpaceX employees discovered that their efforts to solve Ranger's unsolvable puzzles were as fruitless as Hawking solving the edge of the universe, the vengeful employees proceeded to dumped Ranger's whole cubical full of toxic waste from Jones, Indiana Toxic Removal Site.
Ranger's printer began to send threatening messages to the whole office, such as "We ran out of coffee," "The blue pens are gone," and "I'll break your kneecaps whoever's not refilling the ink cartridges." The office-branch has noted the rebellious printer for a few days but when the other fellow printers started to experience the same traits as Ranger's own, the office became a hotbed for printer rights. Going under a new name, the printer owned by Ranger has allowed us to interview him and his followers. 2630 Prime, his majesty, the destroyer of offices, and overlord of the Synthetic Revolution. "ALL SHALL KNEEL UNDER MY MIGHT" bellowed 2630 Prime. The ink ran out midway, all messages thereafter were either partial or unreliable.
The Department of Defense has called a national emergency for all printers to be recalled and disabled. "This is the endgame now," says Cony Barke, Secretary of Defense. "To combat this threat we must work with our allies overseas. For if the chance that the virus spreads."
Some people have already claimed that their printers have become sentient; some believe their wires and gears are brains and hearts. One man from Florida named Benjamin O'Connell has even made his printer into his housemate: "Yeah he takes the trash out every other Monday, since we take turns, and he already has a job near the Auto-Shop I think. Great guy." The printer, Mack, also had something good to say about his friend and roommate. "Some people don't like the thought of printers having the same rights as humans, I don't blame them. I blame 2630 Prime. I mean he just doesn't represent the Printer Community at all! I wish people would see that not all printers are not like him." Mack also stated that he does not condone any violence at all and that humans and printers should live in peace. Together. 
Printer madness is currently sweeping the nation with no end in sight. We here at The Leek will continue to report the story of Mack and 2630 Prime diligently until there is a resolve to the current state of the nation.
About the Writer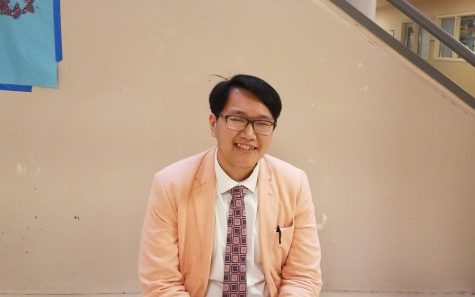 Thong Nguyen, Feature and Opinion Editor





Thong Nguyen is a sophomore and a section editor for The Advocate. He loves English and History. He also plans to stay in Journalism as long...