2022 Fashion Week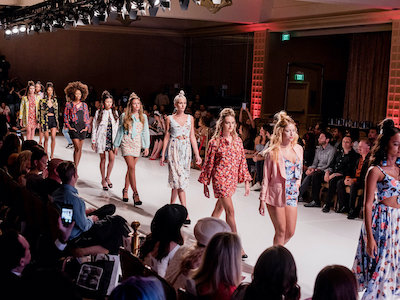 For two weeks before the two major seasons, spring and fall year five cities (Miami, New York, London, Paris, and Milan), fashion week takes place. February 11th – March 8th, 2022 was New York, London, Milan, and Paris spring fashion week. 
This is a week where designers host runway shows and events to showcase and reveal the upcoming season's collection for retail, buyers, and the press to see. Some people that attend the events are retail stores such as Saks fifth avenue, Bloomingdales, or other smaller boutique designer stores. All have someone in attendance at these events to best decide what clothing from the new collections will be in their stores. A group that really fills up the audience is fashion journalists, trend forecasters, photographers, stylists, and magazine editors who all work in the fashion industry and have work connections to get in. 
Connections are everything aside from working in the industry too other ways of entry are being a well-known celebrity whom the brand admires and is pleased to see you wearing it. Extremely long-term and loyal buyers who have a very strong connection with either the designer or someone with power that is relevant to the brand.
The first fashion week of the season is New York fashion week. New York fashion week started February 11th and went on until the 16th. New York includes brands such as Micheal Kors, Coach, and Tory Burch. Besides these brands being the less exclusive designers they all still had great shows, Coach's Fall 2022 Ready-To-Wear collection was and looked incredible. My personal favorite was look number 35/42 a short orange dress with a matching collar black bag, and leather boots. The whole show was filled with fun colors, prints, and textures.
Soon after New York fashion week, comes London fashion week from February 18th to the 22. Not too many high-end brands attend London fashion week, but one that did and had nothing but an incredible show was Vivien Westwood. Their Fall 2022 Ready-To-Wear collection included lots of warm colors creative prints and amazing models. All the looks were amazing, but #33, a mini skirt with a cream and eye pattern along with a matching top, bag, scarf, and shoes was for sure my favorite.
Paris fashion week this year was much earlier than most other years as it took place in early January. Paris fashion week brings in a lot of attention due to its incredible lineup of brands with shows or events during the week. This year some of the present brands were Off-White, Christian Dior, Saint Laurent, and Rick Owens. Out of all 219 of the 4 collections, my personal favorites must be Off-White´s look number 9, white mini top, white pants white gold jewelry, and Saint Laurent's look 56 in an all-black outfit with jean shorts, a blazer, and platform boots.
Another of the bigger fashion weeks and most popular is Milan featuring some of the best and most well-known brands such as Fendi, Moschino, Prada, Gucci, Versace, and Dolce and Gabbana. Starting at the end of London fashion week February 22nd, and ending just before Paris week on the 28th. Milan is the most popular week of the five not only because of its incredible brands but also due to its models, Versace, Moschino, and Fendi often include some of the most well-known models in their shows. This year Fendi had Bella Hadid open their show, Versace had Dua Lipa perform live during their event and also had Bella, Gigi, and Donatella Versace designer of the brand for their Spring Summer 2022 campaign.