The 2023 Grammys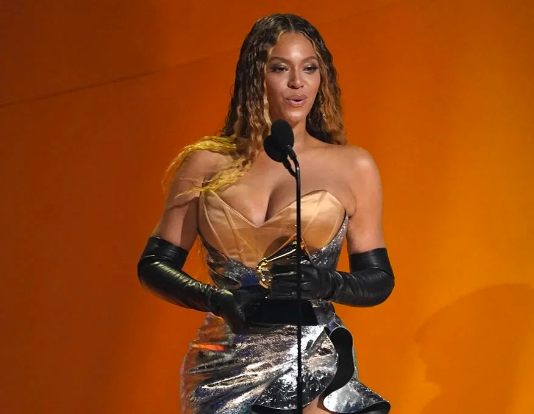 The 65th Annual Grammy Awards were held at the Crypto.com Arena in Los Angeles, California on Sunday, February 5th. The long-anticipated awards ceremony had performances by many prominent artists including Lizzo, Stevie Wonder, Bad Bunny and more. A total of 91 awards were given out that night, with only a handful being announced live on television. 
The show kicked off with Bad Bunny performing a gorgeous medley of "El Apagón" and "Después De La Playa" from his latest album "Un Verano Sin Ti," which was awarded a Grammy in the Best Musica Urbana Album category later that night. 
Then a handful of celebrities attending the show were introduced to the audience, followed by another performance by Brandi Carlile, who was nominated 7 times for her album "In These Silent Days." After Carlile's electrifying performance, 3 awards were announced: Harry Styles for "Harry's House" in the Best Pop Vocal Album category, Willie Nelson for "A Beautiful Time" in the Best Country Album category and Beyoncé for "CUFF IT" in the Best R&B Song category.
With her win of Best R&B Song, Beyoncé officially has earned the most Grammys in history. At an astonishing 32 Grammys won and 88 Grammy nominations, the global superstar has once again made history. 
After the excitement surrounding Beyoncé's historic wins came performances from Stevie Wonder with Smokey Robinson and Chris Stapleton, Sam Smith and Kim Petras, Steve Lacy and more. With these performances came a celebration of hip-hop, which featured many artists gathering together to give an energetic performance celebrating the last 50 years of the genre. Some of the featured artists included LL Cool J, Missy Elliot, Queen Latifah, Questlove and so many more. 
Many awards were presented between each magical performance. Some of these included Samara Joy for Best New Artist, "Easy On Me" by Adele for Best Pop Solo Performance, "BREAK MY SOUL" by Beyoncé for Best Dance/Electronic Recording and "Mr. Morale and the Big Steppers" by Kendrick Lamar for Best Rap Album.  
The ceremony concluded with the award for Album of the Year. One of the most — if not the most — highly anticipated awards of the night. The nominees were "Voyage" by ABBA, "30" by Adele, "Un Verano Sin Ti" by Bad Bunny, "RENAISSANCE" by Beyoncé, "Good Morning Gorgeous (Deluxe)" by Mary J. Blige, "In These Silent Days" by Brandi Carlile, "Music of the Spheres" by Coldplay, "Mr. Morale and the Big Steppers" by Kendrick Lamar, "Special" by Lizzo and "Harry's House" by Harry Styles. Each album depicts a different part of the vast music industry, 
A group of dedicated fans lined up on the stage, each one representing a different nominated artist. Just as the winner was announced, the host steps back and looks for one fan on the stage. He made his way over and asked the fan to read the winner. Harry Styles for his third record "Harry's House."
Disappointment always comes with this category. A long list of near-perfect albums put against each other to see who will come out victorious. 
With the announcement of the winner of Album of the Year, the show has ended. It marks a year of amazing music and leads to excitement for what will happen within the music world in the year to come.