South Pacific: A Joyful Musical With a Meaningful Message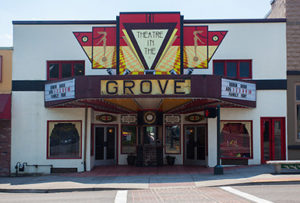 South Pacific, a musical set in 1943 during World War 2, has come to Theatre in the Grove for the second time in fifty years. South Pacific was the first musical ever to grace the stage of the theatre, and South Pacific's director, Zachary Centers, decided to celebrate their fiftieth season anniversary by bringing this remarkable love story back to life.
The musical follows the story of two couples falling in love on an enchanting South Pacific island. Nellie, an idealistic nurse with a kind heart and an optimistic belief in love, is swept off her feet by the former French plantation owner Emile, a man with a gentle character and an intelligent mind. At the same time, Lieutenant Cable, a passionate and firm-willed U.S Marine, is enraptured by a young Tonkinese girl by the name of Liat. But while both couples are completely head over heels for each other, Lieutenant Cable and Nellie come to struggle with the cultural biases that have been ingrained in them from a young age. South Pacific may be a spirited and joyful musical, but it also explores an underlying theme of racism that our society still faces even today and demonstrates how hate is not something we are born with, but something we are taught. 
During my conversation with Mr. Centers, I asked him about his experience casting and directing South Pacific. He informed me that the actors and actresses were very easy to work with and that they had a "very talented cast." The entire cast was made up of volunteers, and Mr. Centers explained that they were all fairly easy to find roles for. We also discussed how certain details of the story were altered to fit our day and age; for example, Liat is a very young woman who is falling in love with a man who is clearly older than her, and so they shifted her actions in her scenes to empower her character a bit more in the eyes of her audience. Liat brings her lover to her rather than her to him, and when confronted with the possibility of losing the man she loves, she fights for him rather than passively accepts. Lastly, I inquired as to what he felt the message of South Pacific was, and he explained that he believed the definite theme was that hate is taught from a very young age. 
After the second night South Pacific opened, I had the honor of being able to speak with two lead actress from the cast; Alison Luey who played Nellie, as well as Andie Moreno, who played Bloody Mary. Andie explained that her role as Bloody Mary was close to home; she was raised in a culture that expected young men and women to get married quickly and have children, a value she expressed in her role to her character's daughter Liat. She was the first in her family to have broken out of those expectations and go to college, but her role as Bloody Mary has caused her to partially reconnect to those values of her family. When I asked about what personality traits she had enjoyed with Bloody Mary, she told me that she loved the strength, confidence, and vivaciousness of her character, which made Mary an enjoyable part to play. Bloody Mary was also the first musical lead Andie had gotten where she did not feel held back by the color of her skin, and the meaning behind her role had meant the world to her. 
When speaking with Allison, I was able to learn the difficulties behind playing a character with qualities as contrasting as Nellie. Allison explained that she had to put a lot of energy into making the audience thoroughly invested in her character so they continue to stick with her as she faces her internal biases. I also inquired as to whether being romantic on-stage with a strange man was odd, and she happily told me how she had also worked hard with Seth Yohnka, who plays Nellie's lover Emile, to cultivate a relationship of trust and intimacy. This friendship created a quality of emotion in their characters' scenes together that was more than simple choreography and pulled the audience into their whirlwind romance. 
For an understanding of the instrumental music behind South Pacific, I interviewed the musician who is playing the drums in each show, Joshua King. My main question was simple: were the musical pieces of South Pacific difficult to play? His answer was, essentially, yes and no. He told me that the music itself was not difficult to play, but the emotions behind the music were essential and very intense to work with. The musical pieces are very expressive and a part of the plotline, which made the music very specific in what it needed to convey.  "Each piece in and of itself tells a smaller part of a larger story," he explained. 
Between the storyline, the theme, the characters, and the music, South Pacific tells a heartbreaking and beautiful story about love, hate and our ability to change that is still relevant seventy years after it hit Broadway. South Pacific is more than a youthful musical full of unforgettable songs; it is an unending classic that can hand anyone of any race, age or gender a mirror and tell them to look deep inside themselves for prejudices they may not realize are there.
About the Writer
Amelie Verlinden, Resources Editor
Amelie Verlinden is a Senior who grew up in Forest Grove. She enjoys reading, horseback riding, and writing poems in her spare time. She loves her English...