Evil Dead Rise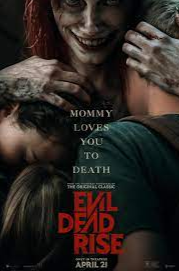 Evil Dead Rise is an upcoming horror film written and directed by Lee Cronin. Evil Dead Rise will be the fifth film of the evil dead franchise. Evil Dead Rise was initially headed for HBO Max, but a trailer was released at the trade show CineEurope and people loved it and said that the movie was good enough for the theaters because David Zaslav took over Warner Bros and decided that he wanted to emphasize theatrical releases. Now we're going to be able to see Evil Dead Rise in theaters on April 21, 2023. 
Throughout the Evil Dead movies, someone usually ends up reading an evil book and they end up bringing out the forces of hell. In the first two movies, we see it start in a cabin in the middle of nowhere with young people getting possessed by sadistic demons. In the Army of Darkness, hero Ash Williams goes back to the middle ages to go and fight a skeleton army. In 2013's Evil Dead movie, a group of friends decides to help a woman stop a drug habit and stay in a cabin where they release the deadlines. Now in this film, Beth (Lily Sulivan) gives an unpaid visit to her older sister Ellie (Alyssa Sutherland) who is raising three kids in her LA apartment. The sister's gathering is short due to their finding a mysterious book in Ellie's building when flesh-eating demons arrive giving Beth the most nightmarish kind of survival. 
There has been a trailer released for Evil Dead Rise giving us a lot of information on what the movie will be about. In the trailer, it shows two teenagers finding a mysterious book (the Necronomicon) in the building they're in. Then reading the book awakens the evil kept inside, which possesses their mother and turns the other people inside the building into demons. The trailer also seems to include all the blood, gore, and dismemberment that fans expect from this series. The trailer also promises an evolution to the Evil Dead series. 
The cast for Evil Dead Rise is Lily Sulivan who is also best known for her role as Coral in Mental and will appear as Beth, Alyssa Sutherland as Ellie while she's also best known for her role as Queen Aslaug in the History Channel television series Vikings. Morgan Davies will play Danny while also known for their role in The Hunter, and Gabrielle Echols as Bridget who's also pretty known for her role as Titch in Reminiscence. Other people who will also star in the film will be Nell Fisher as Kassie, Mia Challis as Jessica, Tai Wano as Scott, Jayden Daniels as Gabriel, and Billy Reynolds-McCarthy as Jake. 
And that's a wrap for Evil Dead Rise movie information. This film seems like it's going to be a nice addition to the Evil Dead Series. I think this is going to be a really good movie and I hope all of you horror fans are excited for this to come to theaters on April 21, 2023.