Bad Bunny vs Taylor Swift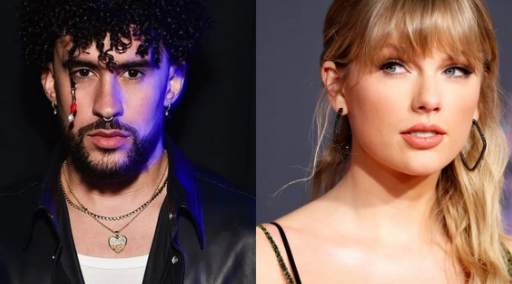 Benito Antonio Martinez Ocasio, better known as Bad Bunny, is a Puerto Rican singer born on March 10, 1994. The name Bad Bunny originated from sharing a picture of him when he was younger in a bunny suit. He went to a University in Puerto Rico where he studied audiovisual communication classes. Most of his music is reggaeton and trap music. 
Bad Bunny started to get famous after one of his songs, "Diles", was heard by a Puerto Rican music producer in 2016. The main song that got him more attention was "Soy Peor" released in 2017. He started to create more singles while also doing some collaborations with other artists like J Balvin, Cardi B, Drake, and more. The song Bad Bunny created with both Cardi B and J Balvin, "I like it", reached number one on the Billboard Top 100. 
His first studio album was x100pre, which stands for "Por Siempre" meaning forever, included one of the top 5 songs on the Billboard called "Mia." It was created by him and Drake including another 14 songs. After that album in 2019, Bad Bunny created an album with J Balvin called Oasis. In 2020, he created one of his most famous albums, YHLQMDLG, which stands for "I do whatever I want."He collaborated with many Latin artists in the making of the album. The album helped Bad Bunny earn his first grammy award. Later in 2020, he released another album called El Último Tour Del Mundo, ' and it became the first Spanish album to reach number one on the Billboard 200 chart. The most recent song that Bad Bunny's released is "Un Verano Sin Ti", which has made him more popular than he already was. That album has held Number 1 on Billboard 200 for the last 13 weeks since its release.
Taylor Alison Swift is an American singer and songwriter. She was born on December 13, 1989, and 33 years old. She was born in West Reading, Pennsylvania. She moved to Nashville at the age of 14 to pursue her dream of becoming a country singer. In 2004, Swift signed a songwriting deal with Sony/ATV Music Publishing and in 2005 she signed a recording contract with Big Machine Records. In 2006, her self-titled debut album made her the first female counter singer to write a U.S. platinum certified album. Swift's pop hits "Love Story" and "You Belong With Me" were the first songs to top all the U.S. pop and all genre airplay charts. 
Swift then experimented with rock and electronic sounds in her album Red, released in 2012. In that album, she wrote a song called "We Are Never Getting Back Together" which became Swift's first ever song to hit number one on the Billboard Hot 100. Later in 2017, another one of her songs made number one from her album Reputation called, "Look What You Made Me do". Not to mention, "All Too Well" (10 minute version) in her album Red, was the longest song to hit the Hot 100. Taylor even self directed a short film for "All Too Well" in 2021 titled "All Too Well: The Short Film ". In 2022, Swift's 10th original album, Midnight, broke all time streaming records with her single "Anti-Hero". 
Swift is one of the best-selling musicians in history, selling over 200 million records globally. She has even become the most streamed woman on Spotify. She has won 11 Grammys, including 3 Album of the Year awards. Swift has even won 29 Billboard Music Awards and 92 Guinness World Records. Swift has even been in rankings like the Rolling Stones 100 Greatest Songwriters of All Time, the Time 100, and Forbes Celebrity 100. She has been titled as Artist of the Decade and even Woman of the Decade and has even been described as an advocate for artist rights and women's empowerment.