Swimming in Circles: Mac's Final Headspace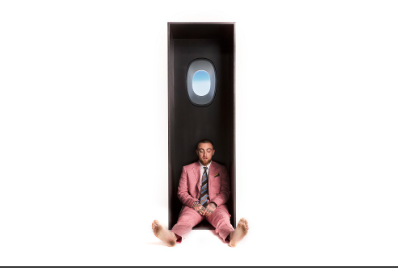 "I just need a way out of my head," is one of the lines to the opening track of Mac Miller's 2018 album, Swimming. Swimming was Mac's last album he released before his unfortunate passing just over a month later. The album displays Mac's "final headspace" through his transparency and vulnerability about his substance abuse and internal conflicts as he attempts to better himself.
Mac finds himself in a seemingly endless cycle of ups and downs, using the metaphor of "swimming" to describe how he is trying to live a stable life. But as he tries to keep his head above water, he struggles to overcome his mental state. The opening song on the album, Come Back to Earth, features Mac opening up about his depression. With lines like, "They told me it only gets better," and, "I'll do anything for a way out of my head," it's clear that he doesn't seem to have too much hope for the future and will resort to anything as a form of escapism. He proves this by elaborating on his ongoing struggle with addiction in some of the other tracks like, What's the Use? Mac describes the troubles his depression brings upon him, such as self-doubt, social difficulty, and the substance abuse that inevitably ended in his death. With such an overwhelming world surrounding him, it's no wonder he resorted to anything he could find in order to cope.
Mac's relationship with drugs remains an ongoing theme throughout this album. What's the Use? Tells a lot about his views on substances, saying, "There's just something about it, that just freaks me out," which shows his awareness of the dangers of drugs, but also his liking that he's grown for them. The joy he receives from these substances is what frightens him, knowing it could potentially be his downfall… and it eventually was. Another track towards the end of the album, Jet Fuel, also gives insight into Mac's addiction. He talks about how his success enables his substance abuse by supplying him with an endless amount of drugs. "Now I'm in the clouds, come down when I run out of jet fuel, but I never run out of jet fuel," supports this by using "jet fuel" as a metaphor for drugs and therefore his motivation to keep going. 
Even though he is very transparent about his downfalls, Mac finds light and positivity in his situation. Songs like Self Care and Hurt Feelings express how Mac can feel on top of the world at some points in his life. In the pre-chorus of Self Care, he says, "Self care, I'm treating me right. Hell yeah, we gonna be alright," as he begins to realize it takes time to actually heal and grow as a person. The track 2009 demonstrates Mac's evolution as an artist and growth over time. The line, "It ain't 2009 no more, yeah I know what's behind that door," shows that he's no longer a young kid having fun in the rap scene, now he's an artist with fame and he now knows what to expect. He's learned a lot throughout his career, and his life in general, and continues to try and spread what he's learned to the listener. In verse 2, Mac says, "I'd rather have me piece of mind than war," describing how he'd prefer to find peace with where and who he is than be at war with himself constantly.
Swimming is overall a very personal and inspiring piece that I hold close to my heart. Mac's ability to be so vulnerable and open about the problems he faces while still seeking out the light at the end of the tunnel is inspiring within itself. We can learn from him by taking his advice and seeing how mental health can truly overtake one's priorities and experiences.