Artist Profile: Kanye West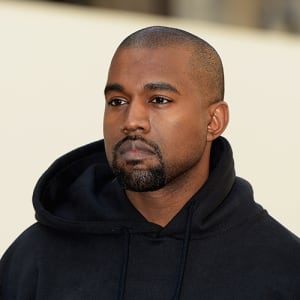 Kanye Omari West is an American rapper, singer, songwriter, record producer, entrepreneur, and fashion designer. His musical career has been marked by dramatic changes in styles, incorporating an electric range of influences including soul, baroque pop, electro, indie rock, synth-pop, industrial, and gospel. Over the course of his career, West has been responsible for cultural movements and progressions within mainstream hip hop and popular music at large.
Kanye was born in Atlanta, Georgia, on June 8, 1977. His father, Ray, was a photojournalist for the Atlanta Journal newspaper and was  politically active in the Black Panthers; he later became a Christian counselor. West's mother, Donda, was a teacher who became a English professor at Chicago State University, and eventually, her son's manager before she died at the age of 58 from heart disease after cosmetic surgery in 2007. Her passing would profoundly affect West musically as well as personally. His parents had divorced while Kanye was young, causing him to spend the majority of his time in South Shore Chicago, until the age of 10 when Kanye moved to China with his mother as she taught an exchange program. After returning to Chicago, West was drawn to the South Side's hip-hop scene, and he befriended the DJ and producer No I.D., who became his mentor. West graduated from Polaris High School and won a scholarship to study at Chicago's American Academy of Art, but dropped out of college altogether to pursue music, an act that would inform the title of his first solo album years later.
Early on he demonstrated his considerable abilities as a producer, contributing to Jermaine Dupri's album Life in 1472 (1998) before relocating to the New York City area, where he made his name with his production work for Roc-A-Fella Records, especially on rapper Jay-Z's album Blueprint (2001). According to Britannica.com "West's skillful use of accelerated sample-based beats soon made him much in demand as a producer, but he struggled to be allowed to make his own recordings (partly because of the perception that his middle-class background denied him credibility as a rapper)". When he finally released his debut solo album, The College Dropout (2004), it was massively successful: sales soared, and critics gushed over its sonic sophistication and clever wordplay. After Kanye dropped The College Dropout he dropped 3 more successful albums but then, tragedy struck. His beloved mother, Donda, died from a heart attack following cosmetic surgery. During his first concert following the funeral, he dedicated a performance of "Hey Mama" to her. Months later, West broke up with his fiancée, Alexis Phifer. His next album, 808s & Heartbreak, released 12 months after his mom died, was shot through with grief, pain and alienation. Kanye considered quitting music altogether but he pursued deciding to make music in memory of his mother.
Since, Kanye has dropped 5 more albums including The life of Pablo(2016), Ye(2018) and Yeezus(2013) Kanye has made some significantly questionable decisions in his career, one of which being running for president In July 2020, less than four months before the election, West announced that he was running for president as a member of the Birthday Party. He did little campaigning, but he released a platform that notably called for reforming the police and legal system, reducing student debt, and having prayer in schools. Republican Pres. Donald Trump and his followers supported West's candidacy, believing that he could lure some voters away from the Democratic nominee, Joe Biden, in what was expected to be an incredibly close election. Despite all of this, Kanye is still one of the best producers of our time.