Stars in the Grove 2019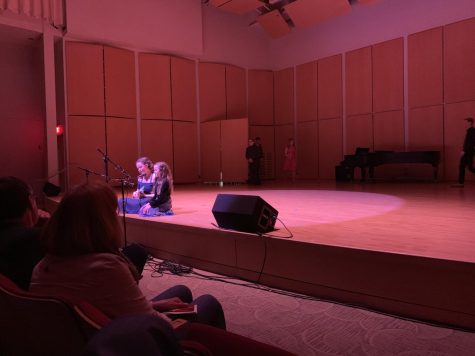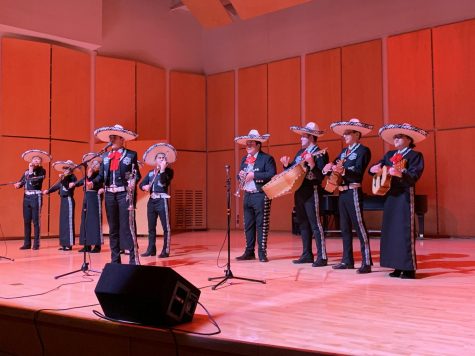 February 23rd, 2019 was a chilly night, yet there was an unmistakable warmth that filled the Taylor-Meade Performing Arts Center at Forest Grove's Pacific University. Students and adults bustled about, waiting to witness the talent of performing members showcased in the 18-act community variety show. Due to the previous years that the event has been put on, including last year's sold out showcase, it was immediately obvious that people had high expectations for each performance this year.
Though at FGHS we are used to seeing performances by students at events such as our talent show and Vik Nite, it is impressive to witness the skill and bravery of community members, young and old, who want to show our community what they can bring to the table. The Forest Grove News-Times, the Chamber of Commerce, and Pacific University all worked together diligently to put the event on, in which all proceeds will help to fund and support the non-profit programs at Theatre in the Grove, which has been providing entertainment to Forest Grove for fifty years.
The night began with a dance recital by Alyssa Stolley and Kalani Burke, who jumped and twirled to "Beloved". Their self-choreographed dance was one of the only dance performances in a sea of music, which allowed their skills to shine. They were closely followed by Paul Price, a victim of ALS (amyotrophic lateral sclerosis), who shared his perseverance despite the disease through a rendition of Jay Unger's "Ashoken Farwell" on the piano. He took a moment prior to his performance to share a little about how the song was special to him: an act that few other performances partook in.
Students from our high school did not fall short in the line-up and definitely were not outshone by older and more experienced community members. Nikaya Frye, Ballet Folklorico, Fatima Sanchez Gonzalez, Mariachi Tradicion, and Brooklyn Tummond represented our peers in the line-up, through their abilities in music and dance. Nikaya Frye, a junior at FGHS, presented her rendition of Katy Perry's "Rise" in her solo vocal debut accompanied by vocal coach and pianist Geneva Houx (who performed Adele's "Rolling in the Deep" in the preceding act) toward the end of the first act, bringing a fresh face to the vocal poweress of our school.
As always, I was looking forward to sophomore, Brooklyn Tummond's performance, who sang her own song, "Spring Will Come Again" under the stage name "Brooklyn Del". Though I was looking forward to the act for personal reasons (she happens to be my younger sister), I was once again astounded by the skills that students from our school both have and are willing to share with our community in the name of art and music.
Without a doubt though, my favorite act was Mariachi Tradicion. I have seen them perform numerous times at school concerts, however, there was something electrifying about seeing a representation of our school's music program displayed to our city. Their interpretation of "Cascabel" by Lorenzo Barcelata highlighted solos from the violin section, the trumpets, as well as the Spanish Guitar, the vihuela (a high-pitched, five-string guitar) and the guitarrón (a small-scaled acoustic bass). This song revealed the crafts of each musician, who are trained through our school's music program.
The night was closed out with a performance of "You Are My Sunshine", in which each performer made their way back out into the silver light of the stage, and sang along with sisters, Khloe and Kianna Beutler. The audience was encouraged to sing along through the final chorus of the classic song, and nobody failed to do so. For a moment, the room of the Taylor-Meade Performing Arts Center was enveloped with the voices of performers, students, community members, visitors, and everyone in between. As I left the center that night, the air felt a little less chilly and a little warmer.
About the Writer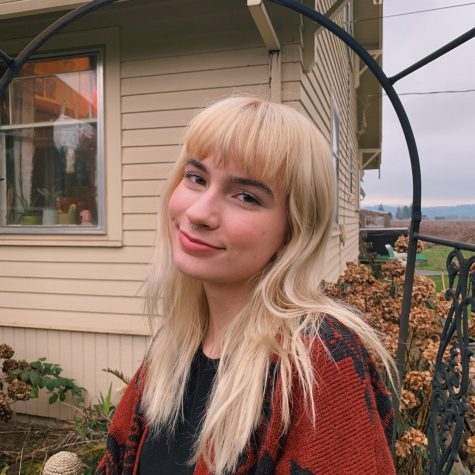 Harley Tummond, Editor-in-Chief
Harley is a senior at FGHS and is the Editor-in-Chief of the Advocate. She is passionate about the news and believes that the press is extremely important...