Colin Kaepernick: A Timeline of His Protests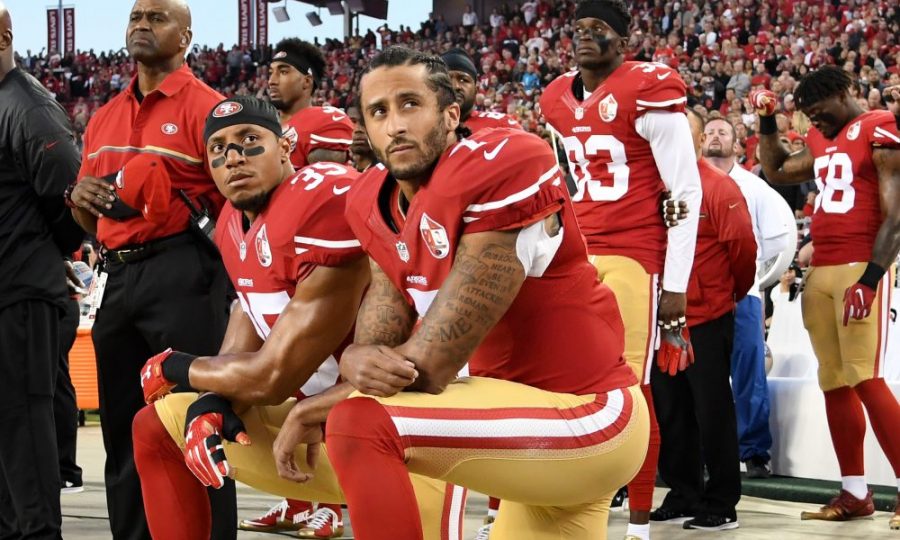 In 2011, the second-round draft pick: quarterback Colin Kaepernick went to the San Francisco 49ers as a second-string quarterback. He used to be the backup to Alex Smith until 2012 when Alex Smith suffered a concussion injury, making Colin Kapernick the new starting quarterback. Colin Kaepernick was the starting quarterback for the 49ers for about four years after Alex Smith had suffered that injury. Then in the 2016 season, people started to watch Colin Kaepernick's behavior towards the flag, and all of that changed.
August 26, 2016: Kaepernick and the 49ers were hosting a home game against the Green Bay Packers in a postseason game. When the national anthem began to play, and his team was standing in recognition of the flag, Kaepernick was sitting on the team benches. Sporting News reported in their article "Colin Kaepernick kneeling timeline: How protests during the national anthem started a movement in the NFL (Halislop/2020)," that Kaepernick told NFL media, "I am not going to stand up to show pride in a flag for a country that oppresses black people and people of color." This game would not be the first game he had done this, but that behavior grabbed the attention of NFL reporters.
August 30, 2016: Kaepernick received an open letter from Nate Boyer, a former Seattle Seahawk player, addressing what his actions look like from the perspective of a military support member. Both Nate Boyer and Colin Kaepernick met up a day later and discussed his peaceful protest by sitting during the national anthem. Nate Boyer was able to talk to Kaepernick and agree with him to change his sitting on the bench to a knee on the turf during the anthem out of respect for the military. Sporting News reported that Nate Boyer told him this was a better option because "Soldiers take a knee in front of a fallen brother's grave…to show respect." 
Soon after his conversation with Nate Boyer, the 49ers had their final preseason game on the road versus the Chargers on September 1, 2016. Kaepernick took up Nate Boyer's advice to take a knee as opposed to sitting on the bench during the anthem. One of the San Fransisco strong safeties, Eric Reid, saw Kaepernick on one knee and joined him in his peaceful protest. Kaepernick was so passionate about his beliefs that he ended up donating 1 million dollars of his NFL salary to organizations that he felt could help his cause.
September 5, 2016: President Obama saw Colin Kaepernick's protest on his stance to kneel during the anthem and agreed with his actions. Sporting News reported Obama making the statement that Kaepernick is "…exercising his constitutional right to make a statement." Two days later, the NFL commissioner Roger Goodell opens up about Kaepernick's peaceful protest. He is somewhat opposed to it, but in agreeance at the same time. Sporting News reported him saying, "I don't necessarily agree with what he is doing [but] I support our players when they want to see a change in society." By September 11, 2016, players throughout the league began to kneel during the anthem as part of the protest that Kaepernick started against racial injustice.
September 12, 2016: Future President Trump responded to kneeling protests. Sporting News reported him saying, "I think [kneeling is] a great lack of respect and appreciation for our country…". Fifteen days later, Kaepernick had responded to the president's claim, saying, "America has never been great for people of color." 
November 8, 2016: It was a voting day for the presidential election in which Colin Kaepernick had chosen not to vote. He never felt any good reason for doing so. Sporting News reported him as saying that "… [in this situation] … you have to pick the lesser of two evils."
March 1, 2017: NFL teams had been told by agents that Kaepernick had decided he would be opting out of his contract at quarterback with the 49ers. It was a big announcement and change for the 49ers with the knowledge that Kelly and general manager Trent Baalke had been recently fired. It was also rumored that Kaepernick might have been taken off his contract anyway if he decided not to opt-out.
August 25, 2017: NFL headquarters had supporters of Kaepernick standing outside the building in New York. They were not happy with the way the NFL handled the protest that Kaepernick had started. Democratic strategist and CNN political analyst Symone Sanders said, "We believe that the NFL has been complicit in the ostracization of Colin Kaepernick."
September 24, 2017: It was suggested by President Trump that all NFL players or staff members who kneel should be fired. The NFL changed the rule on May 23, 2018 to no kneeling or sitting at all; originally NFL players were encouraged, but in no way required, to stand during the anthem. Players who were against standing were to stay in the locker room during the anthem. Sporting News also reported that President Trump encouraged fans to "[stop going to NFL games until players] stop disrespecting our Flag & Country."
October 15, 2017: Mark Gregos, an agent, was hired by Kaepernick. Kaepernick wanted to file "a grievance under the CBA for collusion against NFL owners." What this type of grievance meant was that Colin Kaepernick felt retaliated against by the NFL because of his personal decision to become a social activist against racism and discrimination by not properly standing during the anthem.
At the NFL headquarters on April 18, 2018, Jerry Jones, John Elway, Robert Kraft, and attorneys Kaepernick had hired went to depose NFL Commissioner Goodell. On May 2, 2018, Eric Ried filed his grievance and was supported by Mark Gregos.
August 9, 2018: The NFL reached a new agreement with the kneeling rule. Since there was so much controversy and opinion about what Kaepernick did, the NFL agreed that there would not be any discipline given to NFL members that had chosen to sit or kneel. The only rule for protesting was if the players were to protest, they had to stay in the locker room during the anthem.
Whether you agree with Colin Kaepernick's methods and arguments or not, there is no doubt he opened the door to professional sports teams being tolerant of and even encouraging players to protest against racial injustice. His kneeling in peaceful protest was important because he made an impact in our country that was bigger than himself. He saw an issue in our country and instead of ignoring it, (which he could have done easily knowing his celebrity status at the time) he decided to address the issue of racial inequality. His protest against racial inequality spread awareness across other professional sports platforms such as the NBA. Racial inequality was something Kaepernick did not accept and was willing to help change for the better of our country even if it meant he risked his own future in doing so.
About the Writer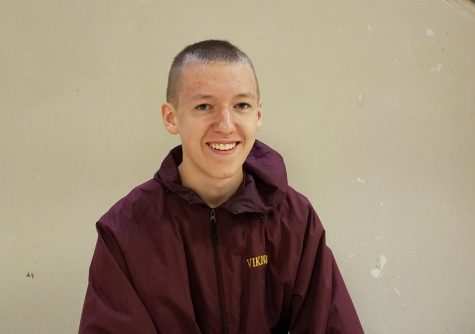 Jacob Kolb, Sports Editor
Jacob Kolb is a senior and is the sports editor for The Advocate for two consecutive years now working on his third. When he is away from school, he enjoys...