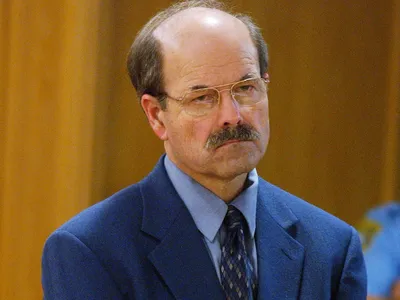 Dennis Lynn Rader was born in Pittsburg, Kansas, on March 9, 1945, to Dorothea Mae Rader and William Elvin Rader. He grew up in Wichita and was the oldest of four sons. He enjoyed a seemingly normal childhood, but he reportedly had some disturbing behavior such as hanging stray animals. His parents worked a lot and didn't pay much attention to their kids, leading him to feel ignored by his mother and hold resentment towards her. From a young age, Rader fantasized about torturing and raping helpless women. He also exhibited zoo sadism by torturing, killing, and hanging small animals. Rader also acted out his sexual fetishes for voyeurism, autoerotic asphyxiation, and cross-dressing. He often spied on his female neighbors while dressed in female clothing, including women's undergarments he had stolen.
He married Paula Dietz in 1971 and together they had two children: a son named Brian in 1975 and a daughter named Kerri in 1978. His son Brian has stayed out of the public eye. Dennis Rader was an American serial killer who terrorized the people of Wichita, Kansas from 1974 to 1991 and was known as the BTK Killer. He was living a double life as a devoted family and company man by day. Rader brutally murdered 10 people. His nickname represents his methods of binding, torturing, and killing victims. 
On January 15th, 1974, Dennis committed his first-ever murder, strangling a family of four, including two children, in their home. Even though none of the victims had been sexually assaulted, the investigators found semen at the scene. Dennis took a watch from the home, and would also often acquire souvenirs, often undergarments, from subsequent victims. In April 1974, he targeted a 21-year-old who was another Colman employee. After he broke into her house, he encountered her brother, who managed to escape despite a benign shot. He ended up fatally stabbing the woman before fleeing the scene. Later that year, he wrote a letter detailing the January murder. Saying that "the code words for me will bind them, torture them, kill them, B.T.K." He left that note in a book at the Wichita Public Library, and the police eventually recovered it. Over the next two decades, he killed five more women. His sixth victim was strangled in March 1997 after he locked her three children in the bathroom. Following the death of his seventh victim in December 1977, he grew irritated by the lack of media coverage. In a note to a local TV station, he wrote, "How many people do I have to kill before I get a name in the paper or some national attention?"
This caused a panic, and after 8 years, he murdered his neighbor in her home in 1985. They reported that he took her body to his church and photographed her in bondage. He caused the death of a 28-year-old mother of two in 1986, and in 1991, he strangled a 62-year-old woman in her secluded home, which became his last murder. The cases then went subsequently cold.
A local paper ran a feature in 2004, on the 30th anniversary of his first-ever murders, speculating that the killer had either died or been imprisoned. He responded to this by various pieces of evidence of his ninth murder, notably a copy of the victim's driver's license and a photograph of her body to a reporter. Dennis Rader would send packages to the media for the next year or simply leave items around Wichita. He often used cereal boxes, possibly a reference to "serial killer" to hold drawings and crime souvenirs, including photographs, written descriptions of the murders, and even dolls posed to mimic the various deaths.
In January 2005, police received a break after recovering a cereal box that included a note in which he asked police whether they could trace a floppy disk he wanted to send to them. Through a classified ad, law enforcement indicated that it would be safe. He sent them the disk which the police quickly tracked to his church. His DNA was also matched to the semen found at the crime scene. He was then later arrested in February 2005, and he soon confessed to the crimes and expressed shock that the police had lied to him. Then in June, he pled guilty, and two months later was sentenced to 10 consecutive life terms.