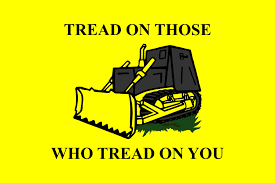 Americans all know the 4th of July, but do you know the events that unfolded on the 4th of January 2004 and the significance it carries? "Sometimes reasonable men must do unreasonable things," is what Marvin Heemeyer said after he caused 7 million dollars in damage to his Colorado town after bulldozing it with a modified Komatsu D355A bulldozer. With no past record of mental illness and no prior criminal record, what could drive a man to do this?
Marvin Heemeyer was born on October 28, 1951, on a milk farm in Castlewood, South Dakota, U.S. He moved to Colorado just before the 90s when he was in the Air Force, stationed at Lowry Air Force Base. He made a home in Colorado and eventually finished his service to open an automobile muffler shop. The conflict started when Marvin started having issues with the city. A concrete plant was opening right next to his muffler shop. Marvin acquired the property his shop was located on from a government agency that was selling off assets from failed savings and loans. He got it at a great price but unknowingly sold a portion of it to a company that later built a concrete plant, blocking his access without his knowledge. To remedy this, Marvin purchased a Komatsu D355A dozer to construct a new access road. However, the city denied his request, leaving him in a difficult situation. Marvin attempted to appeal the zoning board's approval of the concrete plant, but his efforts were in vain. The plant not only obstructed his access but also covered his property in dust.
Meanwhile, the city mandated that Marvin connect his property to the city sewer system, imposing fines for his non-compliance. Additionally, he received citations for various violations, including having junk cars on his property. Gambling was also made illegal around the same time as the rest of this. Frustrated and fed up, Marvin reached his breaking point, deciding that he had endured enough. The Komatsu bulldozer he bought did not go to waste. Komatsu bulldozers are top of the line, D355As weigh around 100,000 pounds, are 400 horsepower, run on diesel, and have 14-foot wide blades. Marvin is smart. Using a bulldozer to your advantage is not something dumb people do. The police can't shoot out his tires and restrict your vehicle's mobility on bulldozers, cause there are none, just metal tracks, bulldozers are a lot more like tanks than people think. Anger makes a man creative. He spent the next 18 months modifying his bulldozer. Arming the bulldozer with steel and concrete fillings, he hooked up a monitor and cameras covered with 3-inch plexiglass connected to the cab to see where he was going. The only holes in the bulldozer were gun and rifle ports, and at least one pistol in the cab with him. The bulldozer was like a K2 Black Panther tank. On January 4th, 2004, he got in the bulldozer and knew he wasn't coming home. He drove through the wall of his shop and did what he needed to do. 
Marvin kept grudges, he had a handwritten note of 107 targets he was planning to get back at. The Docheff family was at the top of the list. The list also included a catholic church (which stayed untouched during the rampage) various businesses, companies, judges, politicians, and anyone who sided against him. The first place he destroyed other than his own, Was the office of the slimy concrete plant next door. Then he went on to bulldoze over the city hall, the local newspaper office that wrote against him, and the house of a former judge's window. Many watched in horror as he bulldozed and damaged 13 places in total. One brave citizen tried to stop him with an itty bitty cat scrapper. Marvin didn't care and brushed him off. Officials attempted various methods, including explosives, to access the bulldozer. Small firearms, big firearms, oxyacetylene torches, choppers, and grenades. The governor of Colorado considered sending a helicopter with missiles to stop him. Didn't happen though, but that's for the better cause a missile would've done more damage to the town than a modified bulldozer. When Marvin was destroying a hardware store, the bulldozer got overheated; the radiator had previously been compromised, unknown to Marvin. His day came to an end. The rampage was over. The one pistol he had in the cab with him was the one he used to kill himself. Put a .357 to the side of his head and it was quick. 
Many say that Marvin went out of his way to not hurt anyone. Law enforcement stated that nobody was reported dead or even hurt. Prior to the rampage, Marvin's brother received a message of his motives and he said "God built me for this job… I think God will bless me to get the machine done, to drive it, to do the stuff that I have to do" he also said that he believes that god did not give him a wife or kids so he could carry this out without hurting his loved ones. He also believes he was on a divine mission sent from god. 
Marvin Heeymeyer is seen as a political hero by many libertarians and leftists. His modified Komatsu bulldozer is seen on "don't tread on me" flags and references about him are everywhere. He is a prime example of enough is enough.
Do I think his reasoning was justified? Not really, but I do think what he did is a reflection and warning of what happens when people get fed up and fight back. Violence is bad, but many times is needed. Whether he is a greedy lunatic or an American hero, his legacy lives on.