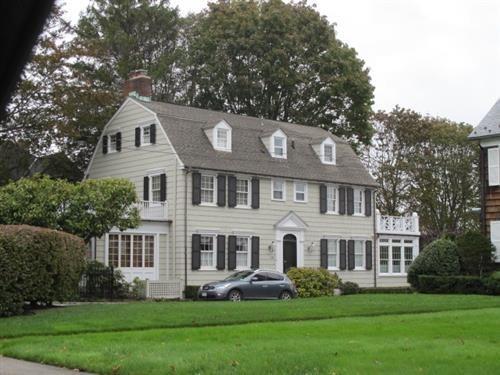 Ronald Joseph DeFeo Jr, born September 26th, 1951, was a mass murderer convicted for the killings of his father, mother, and four siblings in Amityville, New York as they slept at 112 Ocean Avenue. The DeFeo family had been living there since purchasing the house in 1965. DeFeo was sentenced to six 25-year life sentences on December 4th, 1975, and imprisoned at the Sullivan Correctional Facility in Fallsburg, New York until he died in prison on March 21st, 2021. All of DeFeo's appeals and requests to the parole board had been denied.
DeFeo committed the murders around 3 AM, took a bath and redressed afterward, and discarded the blood-stained clothing, the rifle, and the cartridges. He then went to work and later that day he left, then entered Henry's Bar in Amityville at around 6 PM only to yell "You gotta help me! I think my mother and father are shot!" which led a group of individuals including him to go to his house. He supposedly called his home multiple times only to get no response. Authorities found all 6 members dead in their beds by gunshots at around 3:15 AM. No sign of a struggle or drugs in their system were found, and no gunshot reports were made either. The victims of these untimely deaths were 43-year-old Ronald DeFeo Sr and Louise DeFeo as well as 18-year-old Dawn, 13-year-old Allison, 12-year-old Marc, and 9-year-old John Matthew, who were all murdered with a .35 caliber rifle. DeFeo claimed there were voices in his head encouraging him to commit the murders, and some people still believe that spirits were telling him to do so. This claim along with the murders sparked the idea that the house was haunted and that the family were victims to the spirits of 112 Ocean Avenue. A troubled childhood led to substance abuse later in Ronald's life. One of the members of said group and one of Ronald's friends, Joe Yeswit, made a call to the local police department, who searched the house and found six individuals deceased in their beds. Physical evidence concludes that Allison and her mother were both alive. The victims were each buried at Saint Charles Cemetery. DeFeo was taken into protective police custody as he told them he thought the murders were committed by a mob hitman, Louis Falini. When he arrived, he was interviewed and officers discovered inconsistencies. As his alibi, he stated he was at the bar while it happened, then blamed Falini.
The next day, he confessed to committing the murders, and Falini came forward with an alibi. DeFeo told investigators "Once I started, I just couldn't stop. It went so fast." The trial began on October 14, 1975. Ronald and his defense lawyer, William Weber, claimed insanity, along with him claiming he did it in self-defense and his family was "plotting about him." However, looking into DeFeo's childhood tells a different story. Dealing with an abusive father and a mother who stood and let it happen, this traumatic childhood may have been the reason why DeFeo chose to lean on substance abuse later in his life. He would lash out at his abusive father, and once threatened him with a gun. The insanity plea was supported by the defense psychiatrist, Daniel Schwartz. The prosecution psychiatrist, Dr. Howard Zolan, maintained that although he was under the influence of heroin and LSD, and had antisocial personality disorder, DeFeo knew what he did that night. The prosecution stated that he was nothing but a drug addict who knew exactly what he did. The judge for this case, Thomas Stark in his book, Horrific Homicides: A Judge Looks Back at the Amityville Horror Murders and Other Infamous Long Island Crimes, admitted that these were "the most heinous murders committed in Suffolk County since its founding." On November 21, 1975, DeFeo was found guilty of six counts of second-degree murder. On December 4, 1975, Stark sentenced Ronald to six sentences of 25 years to life. It wasn't until the Lutzes moved into the house in December 1975 that the haunting of the house allegedly began, though. 
George and Kathy Lutz unknowingly moved into 112 Ocean Avenue only to move out 28 days later. Green slime sliding down walls, eyes peering into the house from outside, foul smells, and Kathy floating in bed were only some incidents that drove the Lutzes out. George also claims he woke up at 3:15 AM every morning, the same time all DeFeo members were murdered. On September 13, 1977, Jay Anson wrote a book titled The Amityville Horrors. It is based on the 28-day period in which the Lutz family was attacked by supposedly paranormal activity.  It was turned into a movie in 1979, which followed several sequels. Amityville II: The Possession (1982) is based on Murder in Amityville, a book by Hans Holzer, and features a family based on the DeFeos. It includes speculations about the family, for example, that Ronald and his sister, Dawn were secretly incestuous. The film versions of the crimes include many inconsistencies. The house was foreclosed on in 1977, but not before James and Barbara Cromarty owned it. They changed the address from 112 to 108, hoping to ward off stalkers and keep the value. The Amityville Horror house remains as 108 Ocean Avenue. After an uneventful 10 years living there, they sold it to Peter and Jeanne O'Neill. The O'Neills sold it to Brian Wilson for $310,000 in 1997 and most recently it was sold for $605,000 in 2017. To this day, horror fans convinced of the hauntings are still visiting, hoping to experience something paranormal.