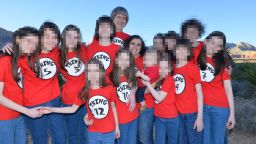 On October 17th, 1961, David Allen Turpin was born. He was once an engineer at Northrop Grumman and graduated from Virginia Tech. David Turpin met Louise Ann Turpin (born May 24th, 1968) during their time at Princeton High School. David and Louise were 23 and 16 when they got married in Pearisburg, Virginia in 1985. Between 1988 and 2015, they had 13 children; Jennifer, Joshua, Jessica, Jonathan, Joy, Julianne, Jeanetta, Jordan, James, Joanna, Jolinda, Julissa, and Janna. The parents eventually moved 10 of the kids into a separate trailer, while bringing groceries but never enough to feed them all. One of their daughters, Jordan, who was just 6 years old during this time, said "There was a lot of starving." She had to feed herself and her siblings with condiments and ice because there was no other food available. In 3rd grade, one Turpin was bullied severely by another child for wearing the same clothes every day and smelling bad. A border collie bit a 4-year-old Turpin child in 2001, prompting police to arrive. This was one of two times the police would interact with them. The second time was when their pigs got loose and ate their neighbors' dog food. Louise would wait for and escort the oldest son home every day when he started school at Mount San Jacinto Community College. After they moved from Texas to Rio Vista, California in 2010, neighbors reported seeing excrement, beds with ropes, and dead animals inside the home. In 2014, the Turpins moved to Perris, California. Neighbors there reported that the children didn't speak unless spoken to, like "children whose only defense was to be invisible." They would skip instead of walking and looked very frail. Louise's sister later said that they wouldn't let her visit, while another sister stated that she was concerned about the children's weight. The parents were planning to move to Oklahoma when they were arrested. Jordan heard them talking about it and knew they had to get out. By 2018, the children had been planning their escape for years.
 On January 14, 2018, two of the girls left the house through a window with photo evidence of their terrible living conditions and abuse. The younger of the two got anxious and went back to the house but Jordan, who was 17 at the time, kept walking and called 911. She told dispatch they were being abused and the house smelled so awful that she could barely breathe. When an officer arrived, Jordan showed him photos of the house conditions. They raided the household and told them it was for a welfare check. The sheriff's department said, "Louise was perplexed as to why we were at that residence". Inside the household, they smelled decaying garbage and moldy food. They soon found the other 12 children, one had been shackled to the bed for weeks, and two others had been shackled soon before officers arrived. For years, the parents imprisoned and beat their children while only allowing one meal a day and one bath a year. Due to the severity of malnourishment, the older children seemed younger than they were; Jennifer (26) only weighed 82 pounds and officers thought several of the adults were juveniles. A 12-year-old had the arm's length of a 4-month-old and others barely had any history of education, lacked basic knowledge, and didn't know what "medicine" was or who the police were. The parents were arrested in January 2019 and later charged with 12 counts of torture, 12 counts of false imprisonment, 7 counts of abuse on a dependent adult, and 6 counts of child abuse. David received another charge for lewd acts performed on a child under 14. Louise was held at $9 million bail and David $12 million. Louise's lawyer asked she be placed in a program for mental illness and the judge denied it. In February 2019, the parents changed their pleas from not guilty to guilty to 14 counts and were sentenced to life in prison with a chance of parole. They sent David to California State Prison and Louise to the Central California Women's Facility. The hospital treated all the children for heart damage, cognitive impairments, and neuropathy for two months, and then placed six minors in foster care. A family adopted five of the juveniles in October 2019, where they were abused again. This abuse included being hit with sandals and belts, and striking on their heads. They also forced them to eat too much while also grabbing, fondling, and kissing non-consensually. 
 Riverside County and ChildNet were aware that the foster family was not suitable and had a previous history of abusing and neglecting children. According to 20/20, no one is allowed to use any money donated to them, and some children are still in foster care. Jordan Turpin was released from foster care without any life skills, no housing plans, or knowledge of how to obtain food and healthcare. In July 2022, the Turpins filed a lawsuit against the Superior Court that initially placed them in foster care. Mike Hestrin, the district attorney, said they're "living in squalor. Living in crime-riddled neighborhoods. There's money for their education, they can't access it. The people 'caring' for these kids simply were not doing their job." Hestrin remains in contact with the Turpin children to this day. As for the children nowadays,  Joshua (30) admits he has nightmares about him and his siblings being chained up. Jordan says her childhood leaves her emotional most days, "…And then I start to do my makeup, but I cry, so I have to do it over." Jennifer works at a local restaurant, while also working on Christian pop music on the side.  In terms of what they've experienced, they're doing well but comparatively speaking, "A number of them are in serious trouble" attorney Elan Zektser stated.