Russell Wilson Almost Traded To Eagles In 2022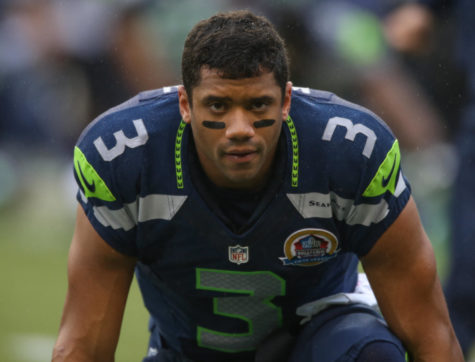 Before the 2022 NFL season, the Denver Broncos acquired quarterback Russell Wilson in a blockbuster trade with the Seattle Seahawks. But before that trade happened, the Philadelphia Eagles nearly landed Wilson.
The Philadelphia Eagles general manager, Howie Roseman, is known as the best in business at the moment. Given all the deals he has made, and all the players selected in the draft to build one of the league's more stacked rosters. The roster he made, eventually made it to the Super Bowl LVII and nearly beat the Chiefs. However, they didn't win  but sometimes there are those times when the things you really want and don't end up getting work out the best for you in the end.
According to Greg Bishop, appearing on Seattle's ESPN radio affiliate, The Eagles did have a deal with the Seattle Seahawks for the player Russell Willson, that Wilson had mixed prior to the deal with the Broncos.
"They went into last year essentially saying, 'We're going to give him everything he needs so we can truly evaluate him,'" Bishop said on Seattle Sports, and then he showed himself so they don't regret the draft.
"I think what I would say is that the Eagles really wanted him – I think they liked his style of play, and I think that makes sense, right, because he's similar to Jalen Hurts, especially when he was in his prime and a little bit faster than now," Bishop said.
Quarterback coach Jake Heaps, who has had experience with Willson for years by working with him, brought it back up in 2022 after the Broncos deal happened.
"The reason why this deal happened so quickly and progressed quickly is because, one, Denver was working on this behind the scenes for a while now," Heaps said. The other reason being that the Seahaws were limited. There's only a certain amount of teams that Russell Wilson's actually interested in or willing to waive his no-trade clause for.
Willson is still an elite quarterback who can carry a team to the playoffs routinely, regardless of his supporting cast or age. We're talking at least five more seasons of top-shelf play.
He had turned down the Washington Commanders offer, and turned down an offer from Philly during the Combine. 
Meanwhile, the Broncos have done a little investigating of the possibility of getting Aaron Rodgers in a trade, which was also the main reason they hired Nathaniel Hackett, who worked with Rodgers in Green Bay, to be their head coach.
In the end, it all worked out well for the Eagles but it didn't work out at all for the Broncos,as Wilson's historic regression made the trade look like an all-time heist for Seattle. Now it's up to new Broncos head coach Sean Payton to get the most out of Wilson, or not.