La Diva De La Banda: Jenni Rivera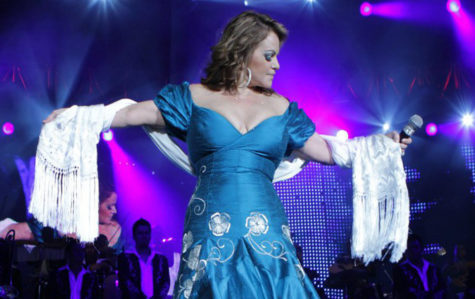 By: Vanesa Garcia Vazquez
Jenni Rivera, best known as La Diva De La Banda, was born on July 2, 1969, in Long Beach, California. She was known for singing Corridos and producing hit albums in Spanish. She also produced multiple reality TV series with her family. Rivera was the child of Rosa Saavedra and Pedro Rivera and was one of her parents' six children. Her parents were illegal immigrants who crossed the border from Mexico to the United States. Growing up, Rivera's life wasn't easy at all. She became a teen mom by Trino Marin at the age of 15 years old, which resulted in her parents kicking her out of their house. Rivera then married Marin in 1984 and had two more kids with him. However, their relationship wasn't blissful. River described their 8-year relationship as mentally and physically abusive. Despite her relationship and child, Rivera still managed to graduate high school and complete college, where she studied business. However, her explosive marriage led to depression and caused Rivera to attempt to take her life twice. She later left Marin and restored a friendly relationship with her parents, and even helped her dad with his record label, Cintas Acuarios. While she helped her dad with his record label, Rivera discovered a new passion for singing.
Rivera continued to follow her dream of singing by performing at bars, which is where she met Juan López. Rivera married López in 1997, but López then got arrested for smuggling immigrants and had to serve a six-month sentence in prison. After his imprisonment, they had two kids together. However, due to López being unfaithful, the couple split in 2003. Although Rivera had lost her husband, her music was soaring. Her up-and-comer record Que Me Entierren Con La Banda was a hit. Rivera soon became best known as La Diva De la Banda. And other names like La Malandrina del Corrido (The Bad Girl of Corrido), La Malandrina (The Bad Girl), La Socia (The Partner), and La Querida Socia (The Lovable Partner). The two most popular songs that she had recorded inspired the nicknames: La Malandrina del Corrido and La Querida Socia (ThePress-Enterprise).  Earlier in 2002, Rivera was nominated for the best banda album in the Latin Grammy's for her album Se Las Voy A Dar A Otro. In 2003, Rivera released a warmhearted song dedicated to her mom titled Homenaje A Mi Madre. 
As Rivera was enjoying her time having the spotlight, everything went downhill when she discovered the horrible secret that her ex-husband Marin had molested her daughters and her sister, Rosie Rivera. Trino Marin was then sentenced to 30 years in prison back in 2006 for the sexual assault accusations. Later it was revealed that Juan López, Rivera's second husband, was arrested for dealing with drugs and sentenced to 10 years in prison, but died in prison during his imprisonment in 2009. Despite these challenging events throughout Rivera's life, she continued to win awards like Grammys and Billboard Nominations and record hit albums.
Rivera's challenging past was what inspired her to go from singing to helping with charity. She was even named spokeswoman for the National Coalition Against Domestic Violence in 2010. Rivera established the Jenni Rivera Love Foundation to help victims of domestic violence, children with cancer, and immigrants. Around this same time, Rivera married baseball player Esteban Loaiza, and her fame kept growing more and more after their marriage. She even began starring in multiple reality TV shows with her family. Rivera started selling clothes, perfume, make-up, and others, which were named: Jenni Jeans, Divine Music, Divina Realty, Jenni Rivera Fragrance, and Divina Cosmetics. However, rumors started to spread that Rivera's daughter, Chiquis Rivera, was having an affair with Loaiza. These rumors were never confirmed, but they made Rivera file for a divorce. Rivera commented to the press that "I am a woman like any other, and ugly things happen to me like any other woman. The number of times I have fallen down is the number of times I have gotten up."
Rivera's life soon ended at the age of 43 years old. On December 9, 2012, Rivera and 6 other people were on a plane going from Monterrey, Mexico to Toluca. After taking off from Monterrey, the airplane soon crashed on the ground going at 600 miles per hour. All 7 people died at the scene. Rivera's death shocked and saddened many people who looked up to her, especially when Rivera shared all her challenging stories like having to deal with abusive relationships and being a teen mom at the age of 15. Many of Rivera's fans admired her powerful and emotive music. Rivera was an icon to the Spanish-speaking world, but it seemed like she still had so much to succeed. A year after her death, Rivera's family released a book on her birthday, July 2, 2013, based on Rivera's life called Unbreakable: My Story, My Way. Where she shared her experience with sexual assault and abuse. Although Rivera's life was short, there was so much to be grateful for. She brought so much light to women and immigrants. She especially helped increase society's expectations of women, to make people believe that women can do so much more than what they are expected to do.