Who is Bloodwitch?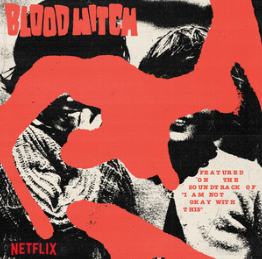 Bloodwitch is a band created for the Netflix TV show, I Am Not Okay With This. To be clear, Bloodwitch is a fictional band. Created by Graham Coxon, who also wrote the soundtrack for End of The F***ing World, the band went from one song to a whole album and an extensive fanbase. Coxon went as far as creating a whole backstory for the band duo. The female voice is Tatyana Richaud and the male voice is Graham Coxon, and the band started in 1983 when they were both teenagers. They were inspired by bands such as Velvet Underground, My Bloody Valentine, and the Jesus and Mary Chain. Coxon describes Bloodwitch as "cute folk horror," which he feels fits the TV show's aesthetic. 
The show is a coming-of-age story all about acne, awkward relationships, sexual awakenings, drama, and daddy issues. The guy next door, Stan, introduces Bloodwitch to the main character, Sydney. The introduction of Bloodwitch is a vital part of the show, it shows more of Stan's character, makes him appear "cooler," and brings Stan and Sydney's friendship closer. After listening to "Fly," Sydney instantly becomes a fan of the band. In the show, Stan's favorite Bloodwitch song is "Fly."
In the trailer for I Am Not Okay With This, Bloodwitch's song "Hey Little Girl " was heard in the background and fans instantly started looking for more of the band. At first, Coxon's only goal was to write one song for the show, but he kept writing more and more songs. In no time, Bloodwitch had its first album. After that, Coxon's goal became making Bloodwitch "sound like a real band." The backstory was a really good touch in doing so. 
Bloodwitch's sound is almost vintage-like, with a female voice as the lead with lots of guitar and a steady beat of drums. Even with the instruments that you would normally hear in a rock band, Bloodwitch has a romantic sound and lyrics. While there are some upbeat songs on the album, I Am Not Okay With This, on the soundtrack of the TV show most of the songs are calming and could put you to sleep if you let them. 
A wish of Coxon's is Bloodwitch merch. "It would be cool if people just made their own and gave us some ideas about what it should look like," says Coxon, after wearing his homemade Bloodwitch shirt to the premiere of I Am Not Okay With This. 
You can listen to and stream Bloodwitch's music on Spotify, Apple Music, Amazon Music, and YouTube. They have over 72,000 monthly listeners. Coxon is working on writing more music and hopes Bloodwitch will come out with another album, should I Am Not Okay With This come out with another season. With that being said, since its release of season one in 2020, Netflix has reported that I Am Not Okay With This will not be back with another season. The cancellation was due to budgeting issues surrounding making the filming during the COVID-19 pandemic safe. Lots of fans are still hoping that 2 years after this news that the show, and Bloodwitch, will make a comeback. It's unknown if Bloodwitch will have more music without the TV series, but many hope so!