National Holidays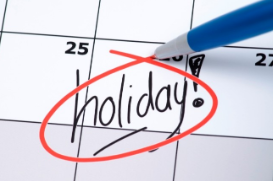 There are national holidays for just about everything. Food, people, places, you name it! Most of them aren't taken seriously by the government and life goes on as normal, but they are fun to celebrate. There are several of these exciting holidays every day of the year, and hundreds in total. It would be impossible to celebrate all of them, but these are worth giving your time.
Have you ever wished you had more time to cherish a large, typically winged lizard? Well, you're in luck on January 16th, National Appreciate a Dragon Day! On this day, you can read books or watch your favorite movies about dragons, draw dragons, or meet up with friends to discuss and admire dragons. There are many qualities to appreciate: their flaming breath, giant wings, elegance, and great power. Explore what you love about dragons the most. You may even find a dragon fan in your life that you didn't even know you had! 
Perhaps Middle Name Pride Day would be more of your style, celebrated on the first Friday of the first full week of March every year. The next one is on March 8, 2024. This is a day to learn more about your middle name. Were you named after someone? You could ask your family members about that person, and talk to other people about their middle names. Don't have a middle name? Make one up for the day! Give it some thought and tell other people about the reasoning behind your chosen middle name.
Or maybe life has been too serious and glum lately. You should watch out for Monkey Around Day on June 14th! This is a day to loosen up a bit and have some fun. You can tell some jokes or watch a movie that always makes you laugh. Play a funny game with family members or prank them. Try not to be overly professional and serious, and do what makes you happy whether it's productive or not! This national holiday is about having fun and taking a break from monotonous activities.
August 18th is National Bad Poetry Day and is the perfect opportunity to write without the pressure of greatness. On this day, try to write the worst poem you can. Make it sound like nails on a chalkboard when read aloud. Search for inspirationally awful poems on the internet. Analyze what makes a poem "bad" if that is your style. You could set up a competition with your friends and family to see who can write the worst poem. This activity could also improve your skills in writing and inspire a love for poetry you didn't know you had before!
The final national holiday discussed will be Stupid Toy Day, celebrated on December 16th. We all have childhood toys that were so important to us as young kids but are rather silly now that we think about them. This is a day to remember and celebrate them. If you still have the toy, pull it out! Why did you like it so much as a kid? Is it still fun to play with? If you don't have it anymore, you could celebrate by buying or donating toys for other kids to enjoy and make memories with. Visit a child in your life like a niece, nephew, or cousin, and give them a stupid toy that their parents will roll their eyes at you for. The kid may make wonderful memories with it, and sharing the gift of stupid toys will be a joyful event for the whole family.