The Nun 2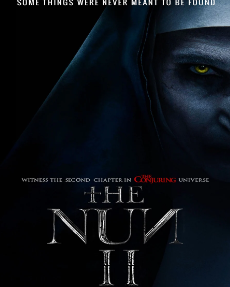 "The Nun 2" is an upcoming American gothic supernatural horror film directed by Michael Chaves and written by Akela Cooper, Ian Goldberg, and Richard Naing. "The Nun 2" is said to be a sequel to 2018's "The Nun". The film was supposed to be released earlier this year but has been delayed due to covid. Now the official release date for "The Nun 2" is on September 8, 2023. 
Back in August 2017, Wan discussed how there could be a possibility of making a Nun sequel if "The Nun" did well. He also said that if he were to make "The Nun 2", it could lead to and how that would tie to Lorraine's story that they had set up in the first 2 Conjuring movies, and how that would make a full circle. Then in April 2019, it was announced by Peter Safran that a sequel was in development. He also stated how there was a really fun storyline planned for the film and how they were a certainty of another film. Later in February of 2022, Taissa Farmiga was talking about how the film has been delayed because of the restrictions from the film industry due to the coronavirus pandemic. Then in April of 2022 Warner Brothers released the film as part of the upcoming slate at the 2022 CinemaCon, then the next day it was revealed that Michael Chaves would be directing the film. Then in September 2022, it was announced that Ian Goldberg and Richard Nag would be contributing as screenwriting co-authors. 
From the information that we know so far about the plot for "The Nun 2" is that it starts in 1956, four years after the first film, and also moves the setting from France to Romania. Then all of a sudden a priest is murdered and evil starts spreading around. Sister Irene then comes face to face with the demonic force VALAK once again. We still don't know too many details about this film but from what I can tell
The cast for "The Nun 2" is Bonnie Aarons who is best known for her role as the bum in Mulholland Drive and will appear as Valak, and Taissa Farmiga as Sister Irene who is best known for her roles in "American Horror Story". Anna Popplewell will play Kate while also being well known for her role as Susan Pevensie in the film series "The Chronicles of Narnia". Katelyn Rose Downey will play Sophie who is pretty well-known for her role as Violet in "The Princess". As well as Jonas Bloquet as Frenchie who is also pretty known for his role as Jonas in "Private Lessons". Storm Reid is also said to be in the film but her role is still unknown.
And that's a wrap for "The Nun 2" movie information. This film seems like it's going to be a great movie as well as a great sequel to "The Nun". I hope all of you horror fans are excited to see this movie once it drops in movie theaters on September 8, 2023.