Ex- UFC Fighter Karl Roberson Arrested For Burglary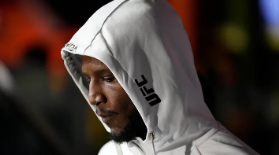 Former UFC fighter Karl Roberson, who competed in both the middleweight and light heavyweight divisions of the UFC, was arrested in New Jersey last month due to a home burglary in which police say two suspects made off with more than $200,000 in "exotic jewelry and valuables."
Roberson, 34 years old, was arrested on March 27th after a traffic stop, with his vehicle being noted as connected to the investigation connected to the burglary that took place in Howell Township the day after Christmas, authorities said in a news release published over the weekend.
Not only was he charged with burglary, theft, and criminal mischief, but Roberson is facing several other charges after police found several alarming things in his vehicle in addition to his other charges. What they found During the search was .9mm handgun with an extended magazine, several packages of what is suspected to be crack cocaine, marijuana, and items related to the burglary. Roberson was taken into custody and later charged with theft, burglary, criminal mischief, and possession of controlled dangerous substances, as well as several weapons offenses. 
Police say, officers responded to reports of a burglary on West Farms Road on Dec. 26, 2022. The two suspects entered the home through a rear door and stole over $200,000 in exotic jewelry and valuables,
Roberson was not the only participant in the burglary that was arrested, The second man named Dathan Thompson, 32 years old, was also arrested on March 27 after the police investigation. He was charged with burglary, theft, and also criminal mischief and was arrested "without incident" at his home.
Robonson's personal connection to allegations related, to the victim of burglary revealed his personal connection to Roberson, whom he's known since the pair were teenagers. Ryan Leonard, a United States Army veteran, and Roberson both grew up in Neptune City, where they formed a friendship. With their close relationship, Leonard recalled sending clips of his home's remodeling to "Baby K," videos he believes were used to plan the heist.
Leonard also detailed the help he attempted to give Roberson, including in the aftermath of his UFC signing in 2017. With that, he admitted a feeling of 'betrayal' at Roberson's alleged involvement in the burglary
Not only the items stolen in the theft, but Leonard also had his $80,000 Presidential Rolex taken, in addition to $60,000 in Cuban chains and a $30,000 bracelet. And so far the items have not been recovered or returned.
Leonard described being initially skeptical when Roberson was named as a leading suspect, but noted the mannerisms of the individual recorded carrying out the burglary on his home security system as those of Baby K.
The alleged victim even likened the robber's "trot" to the way in which Roberson formerly entered the Octagon for fights under the UFC banner.
Police confirmed Roberson's identity to MMA Fighting and told the website that the former UFC fighter was held for approximately "two to three weeks" before eventually getting released.