Michael Jackson; Jackson 5 to King of Pop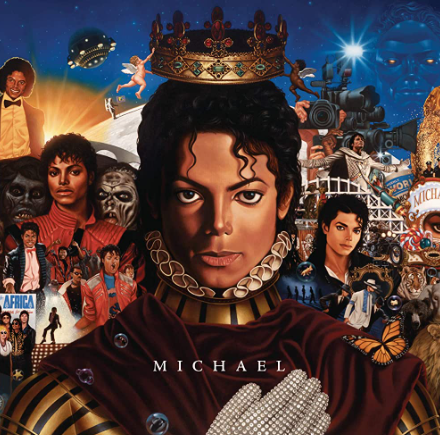 Childhood/Career 
Michael Joseph Jackson was born to Katherine and Joe Jackson in Gary, Indiana on August 29th, 1958. He had six older siblings, including Rebbie, Jackie, Tito, Jermaine, and LaToya. Randy and Janet Jackson later joined the family in 1956 and 1966. In 1962, Michael and Marlon joined the Jackson Brothers with their brothers Jackie, Tito, and Jermaine, with their father as the manager and them as backup musicians playing conga and tambourine. On October 7th, 1969, The Jackson 5 released their first single, "I Want You Back." Joe Jackson would physically and emotionally abuse Michael and say hurtful things about his appearance. Michael once explained that Joe would sit in a chair with a belt, watching their rehearsals and ready to punish mistakes. Joe also acknowledged that he would whip Michael with his belt. In 1965, Michael began singing lead vocals along with Jermaine and changed their name to, "The Jackson 5." Later in the same year, the group won a talent show, with Michael singing, "My Girl," by The Temptations. From 1966 to 1968, the Jackson 5 toured the Midwest, frequently playing at multiple African American clubs as the opening artists for Etta James and Gladys Knight. They also performed at cocktail lounges, local auditoriums, and high school dances. In 1968, Bobby Taylor, of Bobby Taylor and the Vancouvers, brought the Jackson boys to meet Berry Gordy Jr. of Motown Record Labels and the Jackson boys moved to Los Angeles, California per the wishes of their father, without their mother and sisters. In 1969, Motown employees decided Diana Ross should introduce the Jackson 5, and the boys made their first live appearances in the Miss Black America Pageant. On March 10th, 1976 The Jackson boys, excluding Jermaine, left Motown Record Labels, signed with Epic Labels, and renamed themselves The Jacksons. Randy Jackson recently joined the band at this time. The Jacksons continued to tour around the world, releasing six more albums between 1966 and 1968. Michael, being the group's main songwriter, wrote the songs "Shake Your Body (Down to the Ground)" and "Can You Feel It". 
In 1977, Michael moved to New York City to star in a production of "The Wiz " portraying the Scarecrow. While in New York, Jackson frequently visited the Studio 54 club, where he heard hip-hop for the first time. This influenced his beatboxing on future songs. Jackson came out with his first album in 1979, titled "Off the Wall". This album established Jackson as a solo artist. It produced four top entries in the US, "Off the Wall", "She's Out of My Life", and the songs that topped the charts, "Don't Stop 'Till You Get Enough" and "Rock With You". Jackson recorded "State of Shock " with Mick Jagger for the Jacksons' album "Victory". In 1982, Jackson gave "Someone in the Dark " to the audiobook for "E.T. The Extra-Terrestrial" Jackson's sixth album, "Thriller", was released in late 1982. It sold about 70 million copies, topped the charts for 37 weeks, and was in the top 10 of the 200 for 80 consecutive weeks. 
On March 25th, 1983, Jackson reunited with his brothers for Motown 25: Yesterday, Today, Forever, an NBC TV special. The show aired on May 16th to about 47 million people and starred the Jacksons and other Motown stars. Jackson's performance of "Billie Jean" awarded him with his first Emmy Award nomination. While wearing a white glove with rhinestones, he debuted his signature dance, The Moonwalk. Jackson at first turned down the opportunity for the show, but he was promised a solo performance if he complied by the founder of Motown Records, Berry Gordy. In November 1983, the Jackson brothers partnered with PepsiCo for a $5 million dollar deal promoting the product that broke records for a celebrity endorsement. PepsiCo decided to hire Michael and other members of the family for their commercial, but the commercial did not go as planned as pyrotechnics set fire to Michael's hair, causing second-degree burns on his scalp. He stated that he "couldn't disappoint the audience" and continued to dance but eventually collapsed and was taken to the emergency room instantly. He went through treatment to cover the scars and a third rhinoplasty. PepsiCo gave Jackson 1.5 million dollars, to which he donated to the Brotman Medical Center to create the Michael Jackson Burn Center. The Michael Jackson Burn Center unfortunately closed down due to the hospital losing funds. 
On June 25th, 2009, Michael Jackson unfortunately died at 50 due to acute propofol intoxication and cardiac arrest. The autopsy report states that he called his personal doctor, Dr.Conrad Murray, the morning he passed stating that he was dehydrated and could not sleep. Murray drove to Jackson's house and administered anesthetic propofol. Michael then slept for multiple consecutive hours at Dr. Murray's bedside. Around 12p.m, Murray discovered that Jackson was no longer breathing and put him on the floor to perform CPR. 911 was called to the house and paramedics arrived shortly after. The paramedics continued CPR but Michael Jackson remained unresponsive. The toxicology report stated that Jackson had propofol, midazolam, lidocaine, diazepam, lorazepam, and nordiazepam in his system when he passed away. In 2011, Dr.Conrad Murray was convicted of involuntary manslaughter for having overdosed on anesthetic propofol. He went to prison for two years out of his four-year sentence. He then got parole for one year and eleven months.  At his trial, the judge called his treatment of Jackson a disgrace to the medical profession. California suspended his medical license and Texas revoked his license as a result of his conviction.