The Origin and Life of Hello Kitty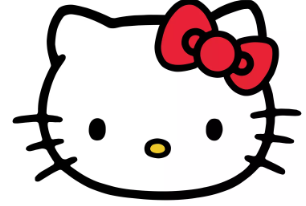 Kitty White, more commonly known as Hello Kitty, is a worldwide icon. She was created by Yuko Shimizu in 1974. Hello Kitty was launched by Sanrio, a Japanese merchandise company, in 1975. She was made with a line of characters to embellish a line of merchandise, with her design revolving around the primary colors to be easier on the eyes of a younger audience. Most people think of Hello Kitty as an anthropomorphized cat, but it's said that she's actually a little girl dressed in a kitty costume. Maybe she isn't a cat or a human; She's just a cartoon character! 
According to Sanrio, Hello Kitty is from the suburbs of London and the third grader lives with her parents and twin sister, Mimmy. Mimmy is depicted with a yellow bow while Hello Kitty is always wearing her signature pink bow perched on her left ear. She enjoys baking, playing the piano, and being with her friends. Hello Kitty is often seen as a symbol of friendship and more commonly an icon of kawaii or "cuteness" culture, which is centered around being seen as docile and adorable. She is meant to be seen as wholesome and kind above all, a good influence on younger audience members. She's also an important part of the "cuteness" culture that was especially popular in the early 2000s. Hello Kitty started to be frequently seen in the beauty industry and lots of other merchandise, such as school supplies, clothes, and later, electronics and larger household appliances. 
In late 2022, Hello Kitty: Super Style! was released on Amazon Kids+, and is planned to be on other streaming platforms by Fall 2023. The show is targeted toward preschool-aged audience members and is about how Hello Kitty puts helping her friends above all. In the Haitang Bay of China, a Hello Kitty amusement park is planned to be up and running by 2025. The park is expected to feature a hotel resort as well. The hotel will have over 200 rooms, decorated with Hello Kitty memorabilia. A bar, ballroom, pool, spa, and fitness center will also be available. 
Hello Kitty is still the epitome of kawaii culture all over the world. Although she originated in Japan and moved on to be popular in the United States as well, she is also popular in Mexico. Many toy stores and stands carry Hello Kitty toys and merchandise. Around Mexico, there are various Hello Kitty themed cafes, such as the Hello Kitty Cafe in Mexico City. The cafe serves desserts that are aesthetically pleasing, with many of the sweet treats being adorned in pink, red, hearts, and lots of chocolate. The cafe also serves afternoon tea and the decor of the restaurant is pink, floral, and everything Hello Kitty. 
The global love for Kitty White hasn't slowed down since her introduction to the world almost 50 years ago and doesn't look like it's going to any time soon. From television shows to makeup products, Hello Kitty is everywhere and her fame will continue to grow for many years to come.