Tom Brady Career Biography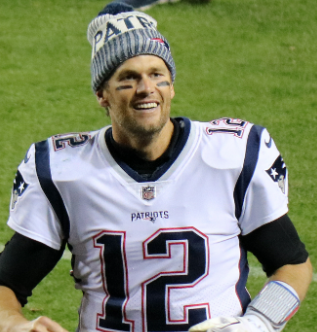 Tom Brady is a former NFL Quarterback.  He played in the NFL for 23 seasons.  Brady's first 20 seasons were spent with the New England Patriots, and his final 3 with the Tampa Bay Buccaneers.  
Brady played for the football team at Junipero High School in San Mateo, California, a city near San Francisco. He took over the starting quarterback position during his junior year and became known for his arm and high levels of football IQ. Tom Brady Graduated high school with 3,702 yards and 31 touchdowns and completed 236 of 447 passes.  He also won All-State and All-Far West honors and the team's Most Valuable Player Award.
Tom Brady attended the University of Michigan college.  He barely played as a freshman and only appeared in six games with 129 total passing yards during his sophomore year.  In Brady's junior college football season, he got 2,427 total yards with 14 touchdowns and 10 interceptions.  He completed 61.9% of passes for the Wolverines that year. His senior season was when Tom Brady really made a big name at Michigan. During his senior season, Tom Brady would record 2,217 passing yards, 16 touchdowns, and 6 interceptions. Brady would also complete 61% of his passes during his senior season. Michigan would finish his senior season with a record of 10-2.
Tom Brady was the 199th pick in the 8th round by the New England Patriots 
While Tom Brady was a New England Patriot as the primary starting Quarterback for 18 seasons, he led the patriots to 17 division titles with 11 of them being consecutive from 2009 to 2019.  Brady also won 13 AFC championships with 8 of them being consecutive from 2011-2019.   Tom Brady also made it to nine Super Bowls and won six of them.  He also won Most Valuable Player (MVP) three times (2007,2010, and 2017).  
Tom Brady also was a part of the deflate gate scandal where Brady ordered the deliberate deflation of footballs that were used in the Patriots' victory against the Indianapolis Colts during the  2014 AFC Championship game on January 18, 2015. The controversy resulted in Brady being suspended for four games, while the team was fined $1 million and forfeited two  draft selections in 2016. Deflategate caused a lot of memes and backlash.  That information was ultimately proven to be false and a correction was eventually made in the initial report.
He joined the Buccaneers in 2020 and won Super Bowl LV, extending his individual records to 10 Super Bowl appearances and seven victories.  Tom Brady has a record of 32-18 with the Buccaneers in his career.  
Tom Brady finished his career with a record of 251-84 wins to losses.  Brady holds a .754 winning percentage, which is the highest among NFL quarterbacks who have started 100, making him the winningest Quarterback in NFL history  Tom Brady is also the leader in wins with 251, 15 pro bowls, and Super Bowl MVP awards with 5, 7,753 complete passes, 89,214 total passing yards, and 649 total touchdowns.