Blue Banisters and Lana Del Rey's Changing Image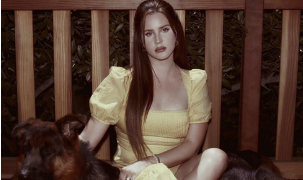 With Lana Del Rey's ninth album being released next month, perhaps it's time to reflect on her eighth. Blue Banisters is a largely experimental album, vastly different from Lana's old work. Reviewing her first two albums, Born to Die and Paradise, it becomes clear how much her image and music have changed. Of course, many things remain the same in Lana's work: her typical themes of love, sadness, and addiction. But by comparison, the tone of Blue Banisters is noticeably more hopeful, as if healing.
That's not to say the album doesn't have any sadness. The ninth track on the album, "Dealer" fits in with Lana Del Rey's previous work seamlessly, (which might explain why it's the most popular song on the album) while also differentiating itself from her early songs through its vocals. In her Born to Die era, Lana often sang with a "baby voice", and by that I mean overly and affectedly sweet. "Dealer" shows off Lana's voice in a different light, as she is practically screaming by the end of the song. 
In fact, she's largely moved away from the so-called "Lolita" aesthetic she became known for. Lolita is a novel by Vladimir Nabokov, which tells the story of a middle-aged man's obsession with his twelve-year-old stepdaughter, Dolores. Although the novel's narrator, Humbert, was, in my and many others' interpretations, intended to be the villain of the story, many believed Lolita to be a tragic love story. This is likely how Lana Del Rey saw it, based on the references her album Born to Die made to the album, including a direct quote in her song "Off to the Races" and a song explicitly titled "Lolita." Lana has since distanced herself from the book, and although many enjoy the undeniable uniqueness of these songs which launched her career, I personally am glad she's moved away from this image. Instead, her current music feels more mature, and less like she's bordering on romanticizing this kind of predatory behavior in her music.
This album particularly feels much more modern, including a noticeable difference in her song lyrics. Lana's music has always been rich in film, media, and celebrity references. In her early work, Lana would frequently mention past icons like Elvis, Marylin Monroe, John Wayne, and James Dean. This can be easily seen in her music videos from this time, such as "National Anthem", which features Lana recreating Marylin Monore's famous "Happy Birthday" to John F. Kennedy. Another good example is her song "American", where there is explicit mention of more than one musical icon in the lyrics (Ex: "Elvis is the best, hell yes"). Sometimes these references are more subtle, and may go over the heads of younger listeners, such as in the lyric "Honey, put on that party dress" a direct quote from Tom Petty and the Heartbreaker's 1993 song "Last Dance with Mary Jane", or "…like an easy rider," a reference to the 1969 film Easy Rider.
Her music from these early eras is flashy, sometimes sickeningly sweet, and often with a focus on material things or an emphasis on wealth or power, particularly in songs such as "National Anthem", "Old Money" and "Off to the Races". However, these themes have a fluctuating presence in her work. Other times, Lana presents herself as a wanderer or in a near hippie-like aesthetic. This particularly can be seen in her album Lust for Life and the music video for her 2012 song "Ride". But in either case, it is a carefully constructed aesthetic.
This Hollywood glamour ideal is a fair part of what made Lana Del Rey famous to begin with, and the lack of it in Blue Banisters is a noticeable difference. Instead, Lana sings about her family and home, about her soon-to-be-born niece. She writes of more modern affairs, no longer referencing dead celebrities in any of her songs. Two songs from Blue Banisters, "Arcadia" and the title track, "Blue Banisters", have music videos. In these videos, the shift is clear as well. Lana is dressed in modern clothing, and instead of lounging at a bar, or wandering down the road somewhere, what is pictured is an idyllic day in a lovely home, presumably on a farm somewhere, since she rides a tractor in the video. Lana and several other women gather around to talk and decorate cakes, a shockingly blissful depiction for an artist that's known for tragic and depressing music.
Another thing, which has gradually changed over the years, is the actual style of music in which Lana performs, from a dramatically cinematic tone to a folksy and more down-to-earth sound, thanks to the acoustic music of her recent work. This is especially present in her seventh album, Chemtrails over the Country Club, but can also be seen in Blue Banisters, particularly in "Nectar of the Gods" which is the twelfth track on the album, and one of my personal favorites.
Another one of my favorite songs from Blue Banisters, and one which I think exemplifies the change in Lana's music is "Sweet Carolina", which, no, is not a cover of Neil Diamond's song "Sweet Caroline", as I originally mistook it for. Rather, it's an original song that Lana wrote for her unborn niece. Like all the songs in Blue Banisters, "Sweet Caroline" is different from Lana's early work, not only for all the reasons I've just explained, but in the actual style of lyrics Lana writes. They've become longer, and less streamlined. The effect of this is her songs are less catchy at first listen, but raw and beautiful upon further analysis. It also fits well into Lana's slight genre transition, blending more elements of folk music into her work.
Despite all the changes in Lana Del Rey's music, Blue Banisters, with its love songs and, as is central to Lana's writing, the use of imagery and emphasis on beauty and the visual, is still distinctly a Lana Del Rey album. And although I'd say Blue Banisters, and its predecessor, Chemtrails over the Country Club, act as a naturally matured version of Lana's earlier work, she makes it clear she hasn't lost her trademark free spirit.