Harry Styles: From X Factor to Live Crowds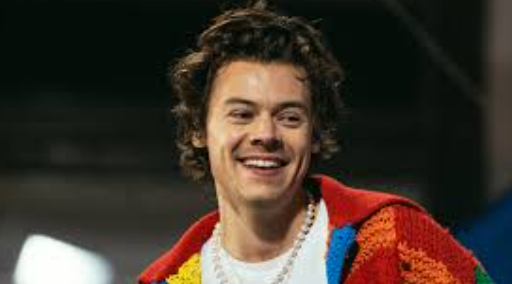 Harry Edward Styles was born on February 1st, 1994 at 12:06 am in Redditch, United Kingdom. Harry got into music in 2010, when he and his four friends decided to try out for the X-factor, and ended up in 3rd place. After winning the X-Factor, they ended up signing for Simon Cowell's record label, Syco Records. A year later, the group's debut single "What Makes You Beautiful" broke pre-order records. In 2015, Zayn Malik officially left the band permanently, it being posted on the One Direction Facebook page. One Direction would continue to be a band without Zayn and create one final album until eventually they decided to take a break in August 2015. 
After One Direction decided to take a break, Harry Styles came out with his debut single, "Sign of the Times," as well as his debut album. He then released two more singles, "Two Ghosts," and, "Kiwi," from the album. After releasing those few songs, he released a documentary about the album called, "Harry Styles: Behind the Album". Styles later starred in a movie, "Dunkirk" and it was released on July 21st, 2017. A year later, Styles performed his first solo tour, "Live On Tour, throughout the first half of 2018. In 2019, Harry released "Lights Up" as the first single to be released from his second album, "Fine Line," and debuted at #3 in the UK, then, "Adore You". His album, "Fine Line" debuted at #1 in the UK and Rolling Stone ranked it at number 491 in their 2020 list of the, "500 Greatest Albums of All Time". In February 2020 Styles released the music video for the song, "Falling" which he then performed at the 2020 BRIT Awards. Later in May 2020, Harry released the music video for, "Watermelon Sugar". Then in October 2020, he released the video for a single on his album, "Golden". Styles' fans went crazy for the music video as the video got up to 7 million views in one day. 
As we made our way into 2021, Harry released the video to his song, "Treat People with Kindness," which stars him and Phoebe Waller-Bridge in an old school video. After his role in Dunkirk in 2017, Styles landed a role in a new horror film called, "Don't Worry Darling" in Spring 2021.  Styles also starred in Florence Pugh. During the filming of the movie, Styles and the director and one of the actresses, Olivia Wilde", began to start talking and eventually began dating. "Don't Worry Darling" released two trailers and was released in September 2022. Styles also got another role in another movie called "My Policeman", an LGBTQ+ movie starring Lily James. In March 2021, at the 63rd annual Grammy Awards, Styles started the ceremony by playing his hit song "Watermelon Sugar" and he later received a Grammy for "Best Pop Solo Performance" for "Watermelon Sugar". Two months later in May 2021, Harry took home his second BRIT Award, winning British Single for "Watermelon Sugar". As he walked onto the stage, Styles explained to the crowd that he was shocked by "moments like this" and that that made him more "grateful to get to do this job". 
Coming into 2022, Styles announces on January 19th 2022 that he, in June, would be bringing his "Love On Tour" to the UK. Months later in April 2022, Styles headlined the night of the Coachella festival. He performed two of his biggest hits, "Adore You" and "Watermelon Sugar", followed by his new single "As It Was". As he prepared for the second week of the festival, Styles excited the crowd as he welcomed Lizzo onto the stage. Later in April, Styles debuts two new singles of his, "Boyfriends" and "Late Night Talking". May 20th, 2022 came around and Styles released "Harry's House". A month later, in June, a trailer for "My Policeman" was released, starring Harry Styles, Tom Burgess, Emma Corin, and David Davidson. After a few months things died down for Styles, but then on October 27th,  2022, Styles released the music video for, "Music for a Sushi Restaurant" after the song was released as a part of "Harry's House". As we enter another year, Styles was nominated for four BRIT Awards in the categories: "Mastercard Album of the Year", "Artist of the Year", "Song of the Year", and "Pop and R&B Act". Following his awards, Styles was able to perform at the BRITs as well, alongside Sam Smith and Kim Petras.