Thirteen: A Mini Summary and Review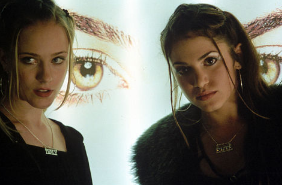 Thirteen is a 2003 film about 13-year-old Tracy (Evan Rachel Wood) who meets fellow 13-year-old rebel Evie (Nikki Reed) who exposes Tracy to a life of drugs, boys, and crime. Throughout the film, Tracy struggles with mental health issues and with her mother's on-and-off boyfriend being around once again and uses Evie as a way to escape and cope. Evie uses Tracy to get away from her own problematic family and home life. After meeting Evie, Tracy starts to dress provocatively, stay out late, shoplift, smoke, drink, and do other various drugs. Although the movie feels like a coming-of-age story, the ending is not as happy as you would expect. At the end, Tracy is caught with drugs and her mother finds out about her self harm. Even though it was Evie who set Tracy up to be caught, she plays it off as if she's the victim and moves away, and Tracy ends up alone once again. This film is loosely based off of Nikki Reed's real life. 
When I first finished this movie, I initially thought that it wasn't realistic at all; Then I put more thought into it. The girls' age compared to what they're doing is off to me, I think the character should've been at least 14-years-old or even older because while there might be 13-year-olds doing these sorts of things, they don't normally start in middle school. Like I said before, at first I thought the movie was unrealistic but then I realized there are a lot of teenagers going through similar things and using those methods to cope or rebel. Drugs, sex, stealing, and dressing provocatively are very common things teenagers do to distract themselves from what's going on in their life. 
The film was overall very entertaining and is meant to be fun in the beginning. I would recommend the movie, while issuing a warning for sensitive content.