Damar Hamlin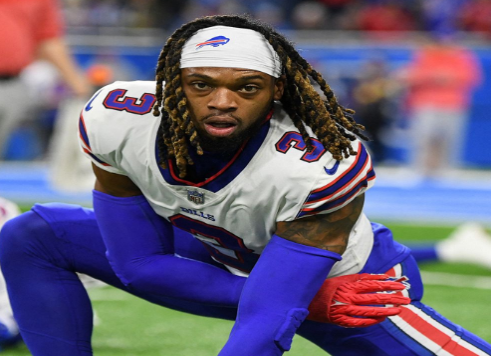 Damar Hamlin is a young and up-and-coming defensive back for the Buffalo Bills. Hamlin was selected in the 6th round of the 2021 NFL draft, taken by the Buffalo Bills, and coming out of the University of Pittsburgh and the Pitt Panther football program. Hamlin had a decent college career where he recorded 290 Total tackles and 192 of those being solo. He had 6 total interceptions and 29 pass deflections throughout his career at Pitt and made the Second team-All ACC in 2020. Hamlin is only 2 years into the NFL and has recorded 83 total tackles and 55 solo tackles with 4 pass deflections and 1.5 sacks with the Buffalo Bills through 2021 and 2022.
Damar Hamlin went down with a very bad injury on Monday, in a game against the Cincinnati Bengals at Paycor Stadium. Hamlin's injury wasn't because of a big crazy hit like some players get. He got up after tackling Bengals receiver Tee Higgins,  then fell over and went into Cardiac arrest. While he was receiving help, Hamlin's heart was stopped for around 19 minutes. After his Heartbeat was restored, he was rushed to UC medical center and was listed in critical condition. On Tuesday, the day after the Monday night game, they kept Damar sedated for a more likely chance of him getting better, and improving his health. Day by day, Hamlin started showing more and more improvement, even sending tweets out and communicating by nodding his head just days after the cardiac arrest. Damar recently got transferred to Buffalo Hospital from UC medical center. When Damar got transferred to Buffalo he tweeted about his love for coming home to Buffalo.
The teams in the NFL really showed how much they value their teammates, opponents, and family, since Hamlin went down on Monday night Football. Many teams and players have gotten together and prayed before games, like the Tennesee Titans, Jacksonville Jaguars, Buffalo Bills, and Houston Texans. Even players like Russel Wilson and Derwin James gathered together and prayed before the game. Both players wear number three which I think is very cool, that the only number threes on both teams got together and prayed for a fellow number three. On Sunday, Buffalo took on the New England Patriots, and the very first kick of the game, Nyheim Hines of the Buffalo Bills took it to the house, this put many people in shock even players in the NFL, saying this was a sign of God. Damar Hamlin is very grateful for all of his teammates and people who have prayed for him and taken deep care of his health and safety. He said on Instagram "The love has been overwhelming, but I'm thankful for every single person that prayed for me and reached out. We brung the world back together behind this. If you know me you know this only gone make me stronger. On a long road keep praying for me!".
I am very happy with how much Damar Hamlin is improving, and I can't wait to see him out on the field again, and dominate and take over offenses, but I really hope his journey of healing goes smoothly and fast.