Origin of Bread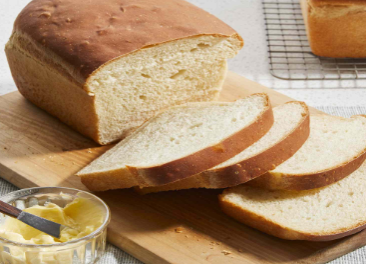 Bread is used with many different foods. Bread is currently made with flour, sugar, instant yeast, salt, and water, but when bread was first found back in 8000 BC in Egypt. It was used with the first grinding tool named Quern bread, which was first made with flour made with wild wheat and barley, mixed with the pulverized root of plants, added water, and then baked it! The name "bread" comes from the root of having to break things into little pieces. Bread has also been titled the oldest food in the world that we still eat today. Bread was so important to Egyptians that it was used as money a long time ago. 
Kansas wheat farmers provide enough wheat to make bread to give every single person on earth six loaves of bread in 1997, that's 36.5 billion loaves of bread! Bread is also a sign of peace in many cultures. Did you know that a rolled-up piece of white bread was used to erase graphite before erasers were invented? After five years of the machine to slice bread was invented, 80% of bread sold in the USA was sliced. An American consumes on average, 53 pounds of bread each year. In the past 5 years, bread sales have gone down 11.3% The sandwich is named after John Montagu, the 4th Earl of Sandwich, who started a trend of eating beef between two pieces of bread. The longest loaf of bread ever beaked was 1.2km long. 
Pre-sliced bread was Banned in the U.S. for some time in 1943 as a wartime conservation effort. Bread is so important that many religions cooperated bread into their rituals and traditions. Germany has the biggest consumption of bread per capita worldwide followed by Chile. 
Old wives' tales said that eating bread crust made your hair curlier. In France it is by law to make all the bread it sells from scratch in order to have the right to call it a bakery. A little information that I feel more people should know is that feeding ducks actually causes many health problems for them and can be very painful for the ducks if they consume too many, so maybe just feed them lettuce or cabbage. The reason it's not good for them is that bread has no nutritional value to ducks and can cause malnutrition.