NBA Possible MVP candidates for the 22-23 season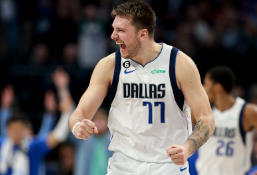 So far this season, there have been many players that have had success and shown that they might be the MVP by the end of the season. But of course, out of all of these great players, there can only be one to win it. So the big question, is who will rise above the rest and win it?
Luka Doncic: So far this season many experts around the league have said that Luka is most likely to win MVP. But it's a long season, and we're only about a month and a half in, so it will be interesting to see if he can keep up this level of play. This season. Luka has put up some incredible numbers and has had some great performances. He is currently averaging about 34 points, 9 assists, and 8 rebounds a game. In his most recent game, he dropped 35 points on the Clippers in a Mavericks victory. The night before that he had a triple-double with 42 points, 10 assists, and 13 rebounds, in a win against the blazers. This season Luka has had 11 games with 30 points or more. If he keeps performing the way he is on offense he will undoubtedly be an MVP.
Giannis Antetokounmpo: The two-time MVP has gotten off to a great start this season, but more importantly, his team is having a lot of success. They are currently second in the east, with an 11-4 record under the Celtics. He is currently averaging substantial numbers, with 29.5 points, 12 rebounds, and 5 assists a game. In his most recent game, the Bucks got their 4th loss of the season. Despite this Giannis still had a tremendous game. He had a double-double with 25 points 14 rebounds and 4 assists. However, he shot 4/15 from the free-throw line, which is an area of his game he needs to improve on if he wants to up his scoring numbers. Because this season, he is 58 percent from the line, which is the worst in his career.
Steph Curry: Curry has had a great start to the year, but his team who won the finals last year, has had a pretty disappointing start to their season. They currently stand at 11th in the west, with an 8-9 record under the Timberwolves, who didn't even make it past the first round last playoffs. However, back to Curry. His stats for the season are 32 points, 6 rebounds, and 6 assists per game. He also scored a season-high 50 points against the Suns. Despite Curry's incredible shooting that game, they still managed to lose the game 119-130. This is the 11th 50-point game of his career.  Last game, they got the win against the Rockets, Curry had a double-double with 33 points, 15 assists, and 6 rebounds. He also put in work on the defensive end, with 2 blocks, and 3 steals. He will certainly keep playing great and put up great numbers this season, but the real question is whether the Warriors will improve and get up higher in the rankings.