Will the Blazers Stay on Top this Year?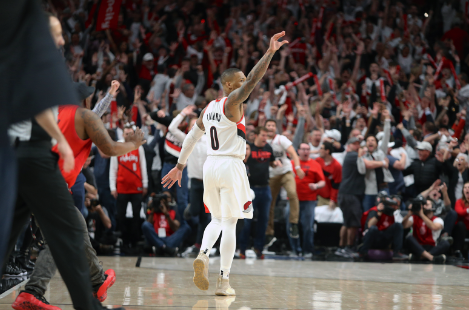 The Blazers are off to a great start this year, they are number 1 in the west with a 10-4 record and have a very solid team this year with Damian Lillard being Damian Lillard and having Anfornee Simons step up and be a really good player for the team as well as one of the newer additions to the team Jerami Grant being a top 3 leading scorer on the team and a whole bunch of other dudes stepping it up and being great.
The Blazers as a team have been working really well together they currently are 22nd in PPG, 18th in RPG, 23rd in APG, and 6th in OPPG, they are a very all-around team and don't really rely on one person to score they currently have 4 players averaging above 10 ppg. Their leading scorer on the team is the one and only Damian Lillard aka Dame Dolla averaging 26.3 ppg. Their rebounding leader is Jusuf Nurkic with 10.2 RPG And the team assist leader is Damian Lillard with 7 APG.
The Blazers in the past have always been in the playoffs they just never have much success without making it out of the 1st round. In the last 12 years, the Blazers have only one a total of 4 rounds while in the playoffs only missing the playoffs 3 out of the 12 times. The Blazers have one of the most clutch players of all time on their roster Damian Lillard, Lillard currently has 9 game-winning shots in the final 5 seconds of a game which leads the NBA in that category. One of his many clutch shots was the buzzer-beater against Houston on May 2, 2014, to send the Blazers to the second round for the first time losing 6 consecutive times in the first round. But this year I think the Blazers will make a big playoff run and make it to the finals, especially if their team stays healthy because they have a lot of weapons which I listed earlier.
I hope the Blazers have an amazing season and have all their players stay healthy because I really like the team they put together this year and I want to see them thrive and win a championship that will be really good for their team because of how young they are and they will have that playoff experience through there entire career and that's a very helpful trait to have especially if they move teams they can help the younger ones through it and coach them up too. But other than that this team is going to be very successful and I know it and I believe they can win the western conference and make it very far this year hopefully ending it with another championship it would be the first one since 1979 which would be very nice for the franchise and I would really like to see Damian Lillard win a championship because he might not have much longer in the league dealing with injuries and age but that would be a very good thing for the Blazer fans and NBA lovers too.