Kyrie Irving Controversy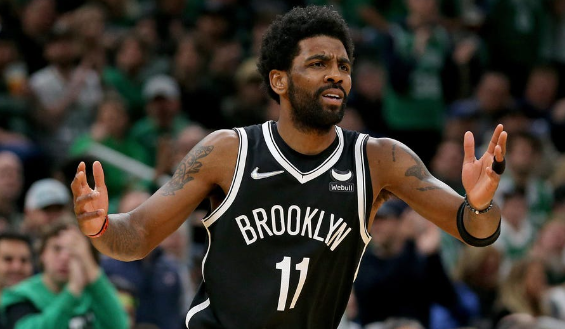 In a generation where celebrities are viewed outside of their profession and how they act and feel matters,  a strongly opinionated individual like Kyrie Irving is sure to stir something up with the media. 
Kyrie Irving is an all-star point guard, currently playing for the Brooklyn Nets. Irving was drafted 1st overall in the 2011 NBA draft by the Cleveland Cavaliers, where he would play a large role in the team's 2016 championship run. Irving was sent to Boston after he requested a trade from the Cleveland Cavaliers ahead of the 2017-18 season.   He played as a Celtic for two seasons, after which he signed with the Brooklyn Nets as a free agent in 2019 and has remained there since.
The things he has said and posted on social media have been pretty controversial and resulted in much backlash. Recently, he posted the link to a film that is considered antisemitic on Twitter.  He has apologized, but the problem continues: On November 4, Nike blamed him for giving hate and antisemitism a platform, and suspended their relationship with Kyrie Irving immediately, as well as canceling their plans to release his next signature shoe
The NBA commissioner, Adam Silver, met with Kyrie Irving and didn't believe he was truly antisemitic, but stated "whether or not he is antisemitic is not relevant to the damage caused by the posting of hateful content."  He was given a five game suspension but was still on the sideline during the Brooklyn Nets game against the Los Angeles Lakers, where the Lakers won 116-103. His former teammate and current Laker, LeBron James said "Kyrie apologized and he should be able to play," "That's what I think. It's that simple. Help him learn, but he should be playing."
Kyrie Irving also received some backlash for refusing to get vaccinated for Covid-19 in the 2022 season.  There was a mandate for NBA players to get vaccinated to be able to play, as well as a New York City mandate, however, Irving protested.  Kyrie Irving had stated "nobody should be forced to do anything with their bodies" while also saying he still would like to return and play for the Brooklyn Nets at some point.  He also stated on an Instagram live that he is not anti-vaccine but believes "everybody is entitled to do what they feel is what's best for themselves" and that he is "about being true to what feels good for me."  Though Kyrie Irving wasn't the only one to refuse vaccination, he was certainly the most honest and outspoken about it.  
Kyrie Irving's conspiratorial side began to show in 2017, when he made headlines for believing the earth was flat\. During an apperance on J.J. Redick's podcast, Irving insisted the Earth is flat. "This is not even a conspiracy theory. The Earth is flat. The Earth is flat," he said."I'm telling you, it's right in front of our faces. They lie to us. They lie to us. The truth is right there; you just got to go searching for it. There is no concrete information except for the information that they're giving us."  Kyrie Irving also encouraged fans to research about it on their own. Around a year later he apologized for his statement on speaking at Forbes' Under 30 Summit in Boston'.