Will Kyrie Irving Become a Committed Member of the Brooklyn Nets?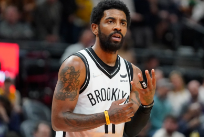 Last season, Kyrie Irving only played 29 regular season games, and in his three years with the Brooklyn Nets, he's only played 103 out of 226 possible games. Many people in the Nets organization have wondered if he is committed to helping the team. This is an important question because, if he's not committed, he could set the team back. At the beginning of last season, the main reason he missed games was because of New York City's vaccine mandate. The Nets listed him out because of "personal reasons" through Jan 7 and Jan 13. He also attended a house party, which went against the NBA health and safety protocol. This caused him to be out from Jan 16 to Jan 18, and receive a 50,000 dollar fine. He argued that "nobody should be forced to do anything with their bodies" On an Instagram live, he established that he isn't anti-vaccine, by saying "everybody is entitled to do what they think is best for themselves." 
When Kyrie did play last season, he had some great performances, and he has shown to be a great scorer. He averaged about 27 points, 4 rebounds, and 6 assists. In his highest-scoring game last season he put up 60 against the Magic, which ended in a blowout win for the Nets. He knocked down 8 threes and shot about 60% from the field. Two games before that, he dropped 50 points on the Hornets, which also resulted in a win for the nets. Kyrie has shown time in time again that he can perform at a high level, the question is will he be committed to helping the team going forward?
During last season's trade deadline, one of the most significant trades was James Harden going to the 76ers for Ben Simmons. This didn't come as too much of a surprise because there had been rumors of Harden wanting a trade before the deadline, and it was obvious that Ben Simmons also wanted out of Philly. And on June 30th Kevin Durant requested a trade despite this he will stay with Nets next season. A major reason for this could be Kyrie's lack of commitment to the Nets, and how they underperformed last year. They had a record of 44-38 and only finished 7th in the east. They were also swept in the first round of the playoffs by the Celtics. It is also rumored that one of the main reasons Harden wanted out of Brooklyn was that he grew frustrated by Kyrie's part-time role. The reason Durant wanted out was more about the organization more specifically the Nets general manager, Sean Marks. It was also said that another reason was Nets head coach, Steve Nash.
Looking into next season, Irving has decided to exercise his $36.9 million option and will remain a member of the Nets. Although he is on the roster, it is still uncertain how committed to the team he actually is, or how long he will stay. Their first game is on the 19th and they face off against the Pelicans.