Celtics Head Coach Suspended For The Season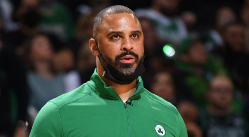 The Boston Celtics recently suspended their head coach, Ime Udoka, for the whole season because of improper work relations. Udoka led Boston to a Finals appearance in his first year with the team last year. We know about Udoka's suspension. He was in a consensual, intimate, and improper relationship with a female staff member. The independent law firm probe into Boston Celtics coach Ime Udoka found that he used crude language in his dialogue with a female subordinate before starting an improper workplace relationship with the woman, an element that significantly factored into the severity of his one-year suspension, sources told ESPN. 
We'll return to that later, but Udoka was born on August 9, 1977, in Portland, Oregon. He attended Jefferson High School and began his collegiate career at the College of Eastern Utah, then at the University of San Francisco finished his collegiate career at Portland State. After that, Udoka played in Europe before being drafted into the NBDL in 2005 by the Fort Worth Flyers. Udoka was a journeyman in the NBA in the 2000s, playing for the Portland Trail Blazers, San Antonio Spurs, and a couple more. He started coaching in 2012 as an assistant coach with the San Antonio Spurs, then the 76ers and Nets, and now he's the Head coach of the Boston Celtics.
Since Udoka is suspended for the season, the Celtics will have Joe Mazzulla, the 34-year-old assistant coach, step up as the head coach this year. After their win against the Charlotte Hornets, Celtics guard Malcolm Brogdon said "I thought he was excellent. I thought he was composed [and] I thought he had some great out-of-timeout plays." Also, something to mention, Mazzulla dolled out minutes to every active player on the training camp roster. So far, it seems like the team likes Mazzulla as a coach, and I like him too. I like that he distributes minutes evenly and plays the players who are actively progressing, like Jaylen Brown. Last game against Charlotte, Brown led the team in points.
I can't wait to see how the season unfolds for the Celtics. It's gonna be tough without their head coach, but they have good people filling in for the spots that need to be filled. I'm pretty confident they will have a good season and make another playoff run, and I'm excited to see Jayson Tatum and Jaylen Brown become one of the best duos in the league, and both have great seasons. Another player I think will bring a lot of fans to the team is JD Davidson. If he does get playing time, he will be a highlight reel with his electrifying dunks and dangerous lob finishes, which will bring a lot of fans, especially if you watch his high school film. The number of people he has there is insane for a high school game, I hope he has a great season. Also, Boston has got a new point guard in town, with former Rookie of The Year Malcolm Brogdon, who they acquired from the Indiana Pacers during the offseason. I think he will be a good fit for the team and improve them.