5SOS5: An Album of Change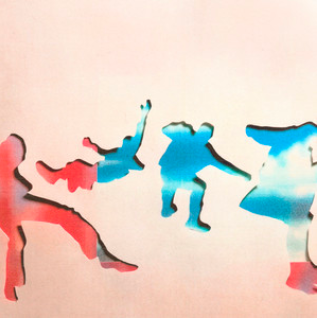 5SOS5 is the fifth album by the Australian pop-punk band 5 Seconds of Summer. 5SOS5 is an album full of musical experimentation, nothing like the band has produced before. From the first track to the last, the songs take you on a journey of healing and growing from pain.
COMPLETE MESS
COMPLETE MESS is the first track on 5SOS5 and the first single released. The song paints a picture of the beginning to the end of a failing relationship with lyrics like "Call it a lesson when I feel you slide away/And I'm missing out on half my life." This sets the tone for the rest of the album, representing toxic relationships and the mental toll they take on the people in them.
Easy For You To Say
The second song on 5SOS5 is all about looking back on being young and naive. It's about past mistakes and to what extent they can harm a person's life. The lyrics give way to themes of regret and self-reflection. 
Bad Omens
Bad Omens conveys the feeling of a broken relationship breaking even more. It delves into the sense of getting left behind by a partner, wondering what could have gone differently. The lyrics explore looking past the toxicity or the "bad omens" of a relationship and letting them boil over until there is nothing left of it. 
Me Myself & I
The third single of 5SOS5 and the fourth track of the album, Me Myself & I shows taking responsibility for the end of an unsalvagable relationship. It tackles feelings of remorse and acceptance with lyrics like "I know, I know that it was my own fault/I never picked up that phone call, oh, Lord/All these broke hearts but mines the one bleeding." 
Take My Hand – Joshua Tree Version
Take My Hand was released as the second single to 5SOS5 and has subjects dealing with self-acceptance and learning how to overcome degrading thoughts and comments. The meanings of the lyrics are hidden beneath a dreamy-sounding beat and are paired well with it. 
CAROUSEL
CAROUSEL talks about the band's struggles with fame and publicity. Similes like a tiger in a circus or a carousel that is always turning are used to describe the difficulties of fame. The song describes the band's regret of being in the spotlight and wishing they could take it all back.
Older (feat. Sierra Deaton)
The seventh track on 5SOS5 contains the first ever feature song on a 5SOS album. The song talks about growing older with the love of your life and contains vocals from lead singer Luke Hemmings' fiancée Sierra Deaton. 
HAZE
Haze discusses the glamor that comes alongside being in love with lyrics like "And when you pick me up, no, I don't have to play pretend/And I am human once again." The song illustrates how it feels to never want to be away from the people you love, a common theme throughout the album.
You Don't Go To Parties
You Don't Go To Parties entails the heartbreak that comes when thinking about an unsuccessful relationship. The lyrics show how it feels to be left behind, what it feels like when everyone is able to leave the past behind except you. 
BLENDER
As the tenth track on 5SOS5, BLENDER is an upbeat song about going around "in an emotional blender," or constantly fighting with yourself and your partner about the ending of your relationship. It depicts a never-ending cycle of fighting and going back to each other. 
Caramel
Caramel follows the theme of the album in representing the beginnings of a toxic relationship. With lyrics like "It used to be easy/Now you can't even look me in the eye," Caramel shows how both people in this portrayed relationship had a part in its ending. 
Best Friends
Best Friends comes as a testament to the band's long-lasting friendship and brotherhood. It is one of the more sentimental pieces on the album with lyrics like "Memories I hold to keep safe/And I love to love you, for God's sake/I got the best friends in this place."
Bleach
As the thirteenth track on the album, Bleach is the epitome of change. The song describes feelings of loneliness and struggling with mental health with lyrics like "If there's bleach in the hallways, I can start over/Bleach in my head, just to get away." 
Red Line
Red Line discusses the feeling of losing yourself after a breakup and obsessing over all the reasons why your relationship ended. The song talks about being dependent on a relationship and not being able to live without that person.
Moodswings
Moodswings deals with the struggle of mental health and how it can affect relationships. Pushing loved ones away and dealing with not knowing how to communicate emotions are the main subjects of this song. Lines like "I know my mood's been swinging all day/Weaponised words can get in the way" convey these themes the best. 
Flatline
Flatline is a song about falling in love again for the first time after a messy breakup. It's about changing and being better for a new partner. Lines like "People always say it's hard to change, hard to change" and "I say, 'I love you,' I don't hesitate, hesitate" demonstrate not being scared of falling in love again.
Emotions
Emotions is sung and produced entirely by lead guitarist Michael Clifford. The song is about emotional vulnerability and not knowing how to communicate those emotions with loved ones. Lyrics like "Don't mind me, I'm just feelin' kinda broken/So I'll be here with my emotions" show this theme.
Bloodhound
As the second to last song on 5SOS5, Bloodhound describes the feelings of youth and not caring about consequences. Lyrics like "We keep dancing when the room is on fire/Spend all our money on our dirty desires" are a representation of learning to be carefree. 
TEARS!
TEARS! is the last song to come from 5SOS5. The song illustrates how difficult it is to feel lonely with lyrics like "Diamonds turn to puddles, no one's feelin' what I'm feeling/Violence in the darkness, are you seein' what I'm seeing." An excellent way to close the album. 
5SOS5 is the best album that has come out of 5 Seconds of Summer by far. With a combination of all their albums into one, the album sounds familiar and brand new at the same time. The lyrics focus on relationships and learning to move on, but they also give us songs about love and valuing friendships above all else.