Fan Theories For Taylor Swift's "Midnights"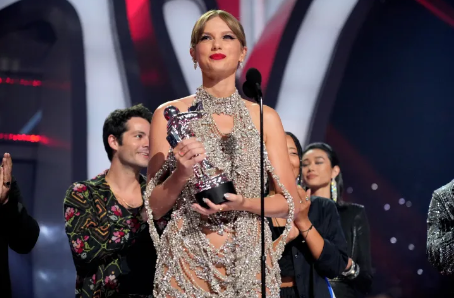 Taylor Swift is known for the easter eggs and teases she leaves throughout her appearances on social media and in public. With Swift's new album, "Midnights", being announced, Swifties have become suspicious and eager to find the hints that Swift may be leaving around. While some of these fan theories may be seen as a reach, Taylor Swift fans are not exactly crazy for believing in some of these. Taylor Swift has been shown the lengths she will go to connect albums, theories, and make stories, especially with her last two sister albums; Folklore and Evermore. 
Swift first announced her upcoming album, "Midnights", at the 2022 MTV VMA awards after winning Video of the year," I thought it might be a fun moment to tell you that my brand-new album comes out Oct. 21. And I will tell you more at midnight." Swift announced more that evening, revealing the album art along with a message explaining the album concept. Additionally, Swift is changing up her release tactic. This announcement was much more relaxed and unexpected than her other album drops. Instead of releasing vinyl versions of her album after the release, Swift announced four different color variations of Midnights that is up for pre-order and will ship on the day of the release. The singer has also been announcing the track titles in a series of videos on social media she calls "Midnight Mayhem with Me" where she uses a bingo cage to pull track numbers to announce the song's name. So far, The titles that have been reported are :
Track 13: Mastermind, 

Track 11: Karma

Track 9: Bejeweled

Track 8: Vigilante Sh*t, 

Track 7: Question…? 

Track 6: Midnight Rain.

Track 3: Anti-Hero

Track 2: Maroon
With the announcement of Eight out of thirteen tracks (so far), fans have begun theorizing the meaning of this new album. For some context, Many believe that Swift's seventh studio album, "Lover", was originally going to be called Daylight, but was changed to Lover. Because these two albums are seemingly opposite, fans believe "Midnights" will be somewhat of a sister album to "Lover". Lucas, a fan on Twitter, wrote "MIDNIGHTS THEORY: the new album will be a sort of sister album to Lover. On "Lover", she discussed the brightness and the Daylight of love, but now she's exploring the darkness, randomness, and maybe even loneliness of the night." This is also speculated because of Swift's explanation of Track 3: Anti-Hero, where she mentions delving deep into personal struggles like never before.
These aren't the only theories Swifties are brewing up though, many believe that Swift is going to announce another rerecording of a past album. Many thought it could be a rerecording of her sixth studio album, "Reputation", Or her 5th studio Album; "1989". Both of these ideas stemmed from Taylor Swift's Outfit choices on the night of the MTV VMA awards. One is similar to a music video from the "Reputation" album, and another is similar to the theme of her "1989" album. And although there has been no confirmation in either of these theories, Swifties are causing more to speculate about the meaning of this album and the rerelease of her past albums.