Hustle Movie Synopsis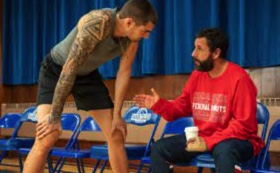 The film Hustle is a sports-fiction-based movie starring Adam Sandler, who plays basketball recruiter, Stanley Surgman, and Utah Jazz player Juancho Hernangomez, who plays the role of Sandler's recruit, Bo Cruz. At the beginning of the movie, Stanley Surgman was traveling around the world for the Philadelphia 76ers, trying to scout new players; however, every time he saw a positive in a player, he would find an even worse negative. He was never able to find the right prospect until traveling to Spain. He stumbled upon a crowd-filled street court and decided to watch a little. At first, he saw some potential in some random player. That was until Stanley saw Bo Cruz step on the court. Bo Cruz dominated everyone who challenged him and was the star of the night. Stanley saw his potential and tried recruiting him, but at first, it didn't go in his favor. Bo thought Stanley was a stalker, following him everywhere, and confronted him when Stanley followed him to his house. Stanley convinced him that he was a recruiter for the 76ers and ended up persuading him that night. The Sixers' head coach did not want Cruz and told Stanley that he didn't want anything to do with him. Stanley didn't take that answer. Instead, he brings Bo with him and trains him from 4 a.m. till late at night to prepare him for the upcoming NBA Draft Combine. Bo had a total of 6 weeks to prepare, and during that time, he worked his most intricate and became an outstanding player. However, Stanley didn't tell Bo that he doesn't have a spot in the combine yet, which ended up biting Stanley in the rear shortly later. The combine announcers were on TV announcing who made it. Once the announcers brought up Bo's name, the Sixers told the world that they never wanted him and told everyone about his criminal charge on him. Once Bo heard this, he stormed out and walked off, but Stanley wouldn't let him go that easily. He ended up telling Bo the truth and trained him from then on. Once it was time for the combine, Bo was ready and, at first, did an outstanding job, but once his opponent (Played by Minnesota Timberwolves guard Anthony Edwards) got in his head and started talking about his family, Bo lost control, pushed him, and stormed out of the combine. Later the media did not like what Bo did, and Bo and Stanley thought he would never get drafted. That is until Stanley takes Bo to the airport to send him back home, and he gets a call from his former teammate, now his best friend. He said they are holding a scouting game where they bring good players to play 5-on-5's so they rush over to the court. Stanley gave Bo a little motivationial speech, and that ended up being all he needed. Bo became the star player of the night and got drafted to the Celtics while Stanley became an assistant coach for the 76ers.
Overall, this movie is by far one of my favorites and is something I can watch repeatedly. It had a great storyline and always had you thinking, "what will happen next?". This is a movie that I would recommend to others to watch.