Thoughts and Prayers, Policy and Change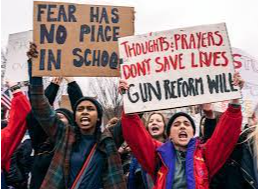 May 24, 2022, 11:28 am 18-year-old Salvador Rolando Ramos Shows up at Uvalde Texas, Robb Elementary School armed. At 11:30 am the police are called by a schoolteacher who noticed him climbing the school's fence and at 11:33 Ramos enters the school. He then proceeds to enter into classrooms and shoot at least 100 rounds. At 11:35 am only three minutes after Ramos entered the school, police quickly run in through the same door, and at 12:51 students exited. 1:06 it is announced the shooter is in custody. During the 91 minutes of the event while kids were in the building 911 was recalled over 6 times.
Quickly, the event reaches the media and news outlets. Reporters begin to show up. After not a large amount of time, it is reported nineteen kids and two teachers' lives were taken. Additionally, it was reported that earlier in the day Ramos shot his grandmother in the forehead. Although not dead, she was severely wounded. 
Salvador Ramos was eager to commit this mass murder in September 2021 at 17 years old. He asked his sister, Marisabelle Ramos, 21 years old 20 at the time, to help him buy a gun but Maribelle refused. After waiting it out a full year, Ramos turns 18 and was able to legally buy a gun, one he had been waiting on. A couple of days after his birthday, May 17th, he went to a local gun store. He brought a gun the next day and the next day he returned and bought 375 rounds of ammunition. That Friday he, returned for a second rifle.
During a time of tragedy, we continue to send thoughts, prayers, love, and support sent to the families of those affected by the event. We sit and watch the news scared as people in power post their so-sorry statements about how cruel people can to commit such crimes. The crime I see even more clearly is silence. It doesn't take a gunshot to hear or a word to be spoken, but a lack of words spoken, silence from those who can make change. Shootings are no new thing and not recently are they just being spoken on. On December 14, 2012, in Newtown Connecticut, the Sandy Hook Elementary School shooting swept the internet. 28 people were murdered and 2 left injured, the internet was in immense shock. We sent thoughts and prayers to the families. Already halfway through 2022, we have seen over 200 shootings take place. This is a time of change, a time for the people in power to speak up, and a time of urgency, a time of urgency that it has been for ten plus years. Our kids need to be protected and our kids need to feel safe. James Madison can't complain, but the parents of the lost class can. Thoughts and prayers are appreciated, but policy and change are needed.