Ella Mai's Rise to Success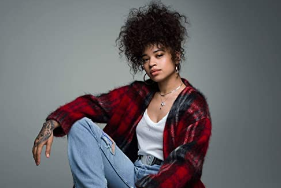 Ella Mai is a British singer-songwriter and performer best known for her hit single "Boo'd Up", her collaborations with popular artists like Meek Mill and Chris Brown, as well as her involvement with major brands. 
Ella was born on November 3, 1994, in London, England. She spent her early years in Mitcham, a place in southern London. Her mother had a passion for music, especially jazz, so Ella grew up constantly surrounded by music. Growing up, Ella always showed a huge interest in singing and other performing arts. Her mother eventually enrolled her at a performing arts school where she then practiced acting, dance, and vocals. 
Her mother was a teacher, and her job constantly required her to move around. When Ella was twelve years old, her mother got a job offer in New York, and she took the opportunity. Adjusting to the United States was difficult for Ella. She hated it there and she would constantly get bullied at school for her accent. In an interview with The Guardian, Ella states, "At 13, you're trying to find yourself… but I felt so different, and I was the only one with an English accent."
She stood out from other students, and she didn't want to attract more attention, so she decided to stop continuing with her music classes. Everything took a turn when Ella decided to perform the National Anthem at her school's graduation. Her performance made a great impression on everyone, and that's when she began to take music seriously. 
 Ella and her family moved back to her hometown soon after she graduated from high school, and she got accepted at the British and Irish Modern Music Institute. Later, in 2014, one of Ella's friends introduced her to a music producer. The producer knew other aspiring artists and suggested a girl group, but Ella quickly shut the idea down because she couldn't see herself constantly sharing projects with other people. Later that year, though, she appeared on the X-Factor as a part of the trio 'Arize' that didn't make it past the judges. 
After that, she met with a few record labels, however, all they suggested was switching her music to a more pop-based genre. Ella didn't like the idea. She says it just wasn't her, so she decided to follow the path of her childhood favorite, Estelle, and sign to a US record label instead. 
In 2015, Ella started posting covers to songs on her Instagram account. It wasn't until she posted a cover to Fetty Wap's "679" song that her account took off. Despite only having 500 followers, the video gained recognition quickly. She was then discovered by record producer DJ Mustard after he saw her singing covers of popular songs on Instagram. After meeting with him, she was soon signed to his label, 10 Summers Records.
Ella released her debut album in October 2018. It featured artists like H.E.R, John Legend, and other well-known artists. The album charted at number one in its opening week and topped for eleven non-consecutive weeks. This album included the song "Boo'd Up", which was Ella's breakthrough song. This song was named song of the summer, and it also reached number six on the Hot 100. This song eventually earned Ella six different awards, including the Grammy Award for Best R&B Song in 2019. 
Recently, on May 6th, Ella Mai released her second album, Heart On My Sleeve. This included 15 songs with some features of popular artists like Roddy Rich and Latto. The album found great success. It peaked at number two on Billboard's Top R&B Albums chart. 
However, apart from her musical success, she has also collaborated with some brands over the years. Her most recent collaboration is Lacoste, which is a French clothing brand. She announced herself as a 2022 ambassador on her Instagram page in May. She has also worked with the clothing company, The North Face, in the past, to encourage people, especially young people, to get off their phones for a bit, and go outside. 
Today, Ella lives in Los Angeles, California. She continues writing new music and being active on social media, as well as releasing new merchandise frequently. Ella does not have any upcoming tours or events.