Who is Xavier Wulf?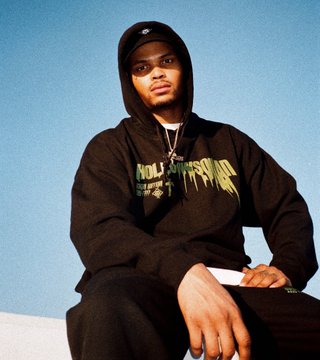 Xavier Wulf is an American rapper, producer, and songwriter that is based in Los Angeles, California. He is known for being a previous member of the Raider Klan, which was one of the most popular underground collectives in the mid-2010s, as well as being a founder and member of the hip-hop group Seshollowaterboyz. 
Xavier was born on October 24, 1992, in Memphis, Tennessee. He grew up on the East side of Memphis and was originally interested in photography. He became interested in rapping after listening to a Bone Thugs-n-Harmony mixed CD in middle school. After that, he began rapping and making his own beats; he'd usually upload them online on music-sharing sites. 
When he was in 11th grade, he dropped out of school, he was also arrested several times for the possession of marijuana. After this, he began going to a studio with his friend to record music. After going a few times, he decided to buy his own recording equipment. Soon after, he began publishing songs under the name Etherwulf. He first joined Raider Klan after discovering one of the members, SpaceGhostPurrp through YouTube. He went on to release his debut album in 2012. 
In the spring of 2013, Xavier left Raider Klan to pursue a solo career, and also because he disagreed with the creative direction of the collective. He changed his artist name to Xavier Wulf and released Blood Shore Season 1 in 2014. He then released his breakthrough mixtape, Blood Shore Season 2 that same year, which included the song "Psycho Pass" which gained lots of attention on Vine. Both of these albums brought him lots of positive attention and success. 
In 2014, he formed the collective Seshollowaterboyz with former Raider Klan members Chris Travis, Eddy Baker, and Bones. The name of the collective is a combination of their self-releasing labels; TeamSESH, Hollow Squad, Waterboyz, and Healthy Boyz. The group has been very successful over the years. They've performed at Rolling Loud Miami, which is a popular recurring music festival, twice. The group is still together to this day. 
He went on to release another two-part album series in 2015 titled Tundra Boy which rapidly became some of his most popular sets of records. Xavier released Project X soon after, which includes the song "Akina Speed Star", this was a breakthrough song. Since then, Xavier has released many other songs and mixtapes. Fast forward to 2020, he released three albums that year; not even the peak of the global pandemic could stop him. 
Xavier is the self-proclaimed king of the underground and is frequently cited as one of the early pioneers of the 2016 SoundCloud movement. He paved the way for success for unsigned rappers. Xavier was allegedly the first rapper that SoundCloud contacted to pay for all the attention he was bringing to the site. Today, Xavier lives in Los Angeles, California. We can expect much more music to come as has been releasing projects relatively consistently since he began, over 10 years ago.