Heritage Edition – Cinco de Mayo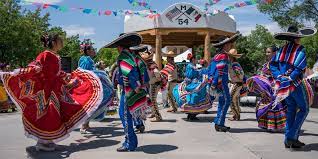 Traditions are celebrated all over the world. In America, the 4th of July is celebrated. In Scotland, a big tradition is dancing and eating while telling stories ("What Are Scottish Traditions?"). Everyone's traditions are unique and different. Some families go out and eat dinner on Sundays while others take a trip once a year. There are big and small traditions all over the world. In Mexico, it's Cinco de Mayo. Cinco de Mayo is often confused with Mexican Independence Day, but that's not what it is. This is celebrated on September 16th, so Cinco de Mayo is not Mexican Independence Day. Cinco de Mayo is celebrated in honor of a military victory in 1862 over the French forces of Napoleon III. It's celebrated on May 5th. Cinco de Mayo is mainly celebrated in Mexico but is also celebrated in other parts of the world.
Families often celebrate Cinco de Mayo by hosting gatherings or big parties. These parties usually host many friends and family members. At these parties, people drink and dance and altogether have fun. But as a community Cinco de Mayo is celebrated in more than one way. They celebrate Cinco de Mayo with parades and celebrations of Mexican culture, culminating with the consumption of lots of Mexican food and margaritas and lots of dancing ("What Is Cinco De Mayo").
Although Cinco de Mayo comes from Mexico, it's also very popular in the United States. In the U.S., Cinco de Mayo is celebrated in so many different ways. One of the ways is that there are fairs that go up in honor of Cinco de Mayo. There are also many families in the United States who host parties where there is alcohol and lots of dancing. Also in the United States, they take Cinco de Mayo as a chance to teach kids about Mexican culture and as an opportunity to teach kids about what happened ("Why I Teach About Cinco De Mayo In My Spanish Class").
In Mexico, Cinco de Mayo is a tradition, but it's not the only one. There are lots more traditions to learn about that happen in Mexico. If you are interested in learning more about traditions that go on in Mexico, I recommend doing some research on Dia de Los Muertos and Mexican Independence Day. These traditions are celebrated in all kinds of different ways. Some of these traditions are bigger than others, yet they're all just as important. If you are interested in learning more about other traditions that happen in the world, some good traditions to look up are Gumboot Day ("7 Traditions Only New Zealanders Understand"), which takes place in New Zealand. Another good tradition to look at is English Cheese Rolling ("9 British Traditions To Experience In The UK"), which takes place in the UK. These are only some of the traditions that take place in the whole world. No tradition is exactly the same, they are all different in a way. The only thing traditions have in common is bringing family and friends together.