My 5 Star Rating of My Dear Hamilton: A Novel of Eliza Schuyler Hamilton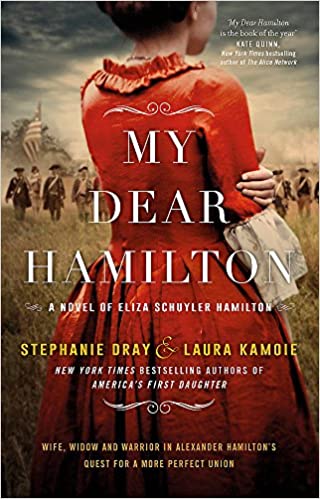 Since the musical Hamilton came out at the beginning of 2015, the story of a man named Hamilton has gained rising popularity and interest in people around the world. From his political involvement in helping create fundamental parts of America's history and working with people who we still learn about today, Hamilton was exposed to have been more of a part of history than most had known before. Hamilton is also known for how he rose from the bottom of the world up to the top, his dreamy romance with Eliza Schuler, and his duel with Aaron Burr. What people tend to not know is what happened in his life behind the scenes– the places in his life where he wasn't the same man portrayed in the play.
The book My Dear Hamilton: A Novel of Eliza Schuyler Hamilton, by Stephanie Dray and Laura Kamoie, explores the sides of history not shown through the play. Shown through the perspective of Hamilton's wife, Eliza Schuyler, it shows the unknowns they had to go through together and what broke them apart during the times of their life. This book also shows the struggles Eliza had to face after her husband's death for years, and what would have gone differently if she had chosen to marry someone else.  
As a whole, this book was extremely informative and was written in a way that was styled more toward the time Eliza lived in. At the beginning of the book, we are given more information about Eliza's family and the time before Eliza even met Alexander Hamilton for the first time. Once she meets Hamilton, the main part of the book begins and shows how Eliza felt towards the ideals Hamilton held, finding a place to make a home for them, and the beginning of their family (eventually eight children). It also shows Eliza's emotional struggles as she deals with things occurring to her parents and sisters, Hamilton's affair, and the death of one of her children at birth. A few pages at the end of the book are dedicated to the life Eliza lived with her children after Hamilton's death, and some secrets are exposed about Hamilton that both surprise Eliza in the book and the readers themselves.
Some things I liked about the book include the writing style, the way Eliza's perspective was shown, and how factual the writing was while also being an enjoyable story. Another thing I really liked about it was how the reader was shown the time before and after Alexander Hamilton passed through Eliza's life. This helped create a greater picture of who Eliza truly was, and her strengths as an individual rather than a shadow of the man well known today. Another great thing about this book was how it explored other characters that also played a part in history that are less explored in history books. 
One thing that I didn't like about this book was the last few chapters towards the end of the book. They seemed to drag a little, causing the story to hang up on small details of scenery and the feelings and questions Eliza asked herself over and over again. Overall, I think this was included to help show how simple the time Eliza lived in was and show how a person dealt with their emotions was different than today.
This book is definitely a historic read worth your time. You definitely get your money's worth with over six hundred pages of a true relationship between people who lived long ago. This is definitely not a children's book and has lots of language and words that test your knowledge based on what English was like around the time Eliza was alive. I gave this book five stars because it was historically accurate, while also holding the reader's attention to the struggles of a real relationship and the trials of life.