Saweeties Success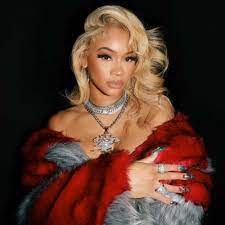 Diamonté Harper, commonly known as Saweetie, is an American rapper, songwriter, and actress best known for her hit single "Icy Girl" as well as her collaborations with McDonald's and Crocs in 2021. 
Saweetie was born on July 2, 1993 in Hayward, California. She grew up around Sacramento, California. Growing up she was close to her grandmother, who nicknamed her "Sweetie." Over time, this name morphed to "Saweetie," which is her stage name today. 
Her mother is of Filipino descent and her dad is African-American. Growing up biracial affected her in many ways, and still affects her today. She states, "I definitely felt out of place at times because the cultures that I was raised around were completely night and day. But I feel like those types of internal struggles help me understand people better… it allows me to be sensitive to other people's cultures."
She made a name for herself as an athlete early on. She was the quarterback for her powder-puff football team and was named Female Athlete of the Year. She was also good at volleyball and basketball. Saweetie's grandfather, Willie Harper, played football for the San Francisco 49ers. Her family was very athletic and encouraged her. 
Saweetie began writing poems at the age of thirteen, in an interview with npr she states, "I remember staying up in my room and just writing in my pink notebook… I used to sit in the corner of my room on my bed and just write all night." During middle school, she performed at talent shows with her friends. She has said that this helped her overcome her stage fright. She then started recording music at fifteen years old. She would use her phone to record her voice and shoot videos. She created her own beats and lyrics. Some of her main influences were Niki Minaj, Lil' Kim, and Foxy Brown. 
After finishing high school, Saweetie attended college at San Diego State University. Later on, she transferred to the University of Southern California. She was going to major in journalism but didn't like it, so she majored in communications and business instead. After she graduated from the University of Southern California, she was struggling with money, so she tried a variety of jobs such as being an office assistant, a waitress, selling t-shirts online, and even working in hospitals. After all of those jobs didn't work out, she decided to pursue a music career. 
She moved to Los Angeles and gave herself a year to be discovered by a record label, or she'd move back with her family to the Bay Area. Eventually, after nine long months, she was signed to Warner Records. 
Saweetie had been posting videos of herself rapping to her Instagram page since 2012, but it wasn't until 2016 that she finally got some recognition. She posted a video of her rapping over the beat to Khia's "My Neck, My Back (Lick It)." That freestyle would later become one of her most popular songs today named, "Icy Girl." She released "Icy Girl" on SoundCloud. It was her breakthrough song. This song got the attention of Max Gousse, who is a well-known producer and A&R executive, he would eventually become her manager. 
In February 2018, she was featured in an ad for Fenty Beauty, which is Rhiannas's cosmetics company. The ad was played during the commercials for the Superbowl LII. Not long after, she was signed to Warner Records and Gousse's record label, Artistry Worldwide. She would create her own record label, named Icy Records, that same month. 
In the summer of 2020, her single Tap In went viral on Tiktok. Lesley Gonzalez is credited with creating the choreography of the "Tap In" dance. This gave Saweetie more recognition and helped her gain fans. This song went on to be nominated for Song of the Summer at the MTV Video Music Awards in 2020. 
Apart from her musical success, Saweetie has also worked with some major companies. In August 2021, she partnered with McDonald's to release a custom limited-time meal, some merchandise was also released to go along with it. Soon after, in September 2021, Saweetie teamed up with Hidden Valley Ranch and Crocs to create a pair of speckled green and off-white colored crocs, as well as nine charms. 
This year, Saweetie was nominated for two awards at the Grammys: Best New Artist, and Best Rap Song for her Doja Cat collaboration "Best Friend." Saweetie will be performing at Rolling Loud, which is a music festival that will be held in Miami, Florida that lasts two days (Friday, July 22 – Sunday, July 24). Some artists that will be performing are Kenrick Lamar, Future, and Ye. 
Today, Saweetie lives in Los Angeles, California, and continues writing music, as well as being very active on social media. Her persistently delayed debut album, Pretty B**** Music, is scheduled to be released sometime this summer.