The Jail Blazers: The Darkest Era of Portland Basketball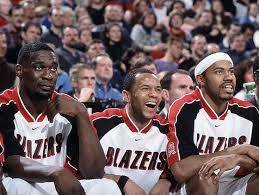 Reader Discretion: Mention of Sexual Assault, Animal Abuse, Domestic Violence, and Drug abuse
In the early 2000s, the Portland Trail Blazers went through a transitional period. In 1999, the team acquired superstar Scottie Pippen, only a year removed from his final championship with the Chicago Bulls, and all-stars Steve Smith and Detlef Schrempf. Later that season, the Blazers were six points short of making the NBA Finals. Unfortunately, the Blazers' next few years weren't marked by deep playoff runs but instead Dog Fighting Rings, Drug Charges, and Fights between teammates. This was the Era of The Jail Blazers.
Prelude
In the summer of 2000, the team traded Brian Grant to the Miami Heat as a part of a three-team trade that sent former star Shawn Kemp back to the Pacific Northwest. Surprisingly, the team traded rising star Jermaine O'Neal to the Indiana Pacers for veteran Dale Davis. The team stayed solid for a good chunk of the season, even being the 1st seed at one point; however, it fell off pretty hard during the season, finishing with the 7th seed. This is where Portland's "Jail Blazers" name started to arise. In April, Shawn Kemp was ruled out for the rest of the season after checking into a rehabilitation facility to treat his cocaine abuse. Rasheed Wallace was suspended during the playoffs after flinging a towel at fan-favorite Arvydas Sabonis. Wallace getting suspended was a common occurrence that season, as in 2001, he broke the NBA record for most technical fouls in a season, racking up 41 techs throughout 80 games (About one tech per two games.) The 2001 offseason became bizarre very quickly. Arvydas Sabonis retired due to mental and physical struggles, Coach Mike Dunleavy was fired and replaced by Maurice Cheeks, and Steve Smith was traded to the Spurs for Derek Anderson and Steve Kerr. In one of the franchise's most controversial moves, the team signed Ruben Patterson. Patterson had just pleaded no contest after being accused of attempting to rape his family's babysitter and was forced to register as a sex offender months prior, and convicted of assaulting a man outside a Cleveland nightclub a year ago. Also, the team drafted Michigan State power forward Zach Randolph with the 19th pick of the draft. Randolph quickly made a name for himself due to his excellent rebounding, good use of his size, and fracturing Ruben Patterson's eye in a fight during a scrimmage match. 
The Peak of Portland's Jail Blazers
2002 to 2006 was probably the zenith of the Jail Blazers. In a November away game against the SuperSonics, Rasheed Wallace and Damon Stoudamire were pulled over for speeding after privately driving from Portland to Seattle. Forty grams of marijuana were found in Stoudamire's Hummer (marijuana was still illegal in Washington and Oregon at the time). It was known Stoudamire smoked, as earlier in the year, police found a pound of cannabis in a crawlspace in his after an illegal search after a burglary attempt; however, no one knew how bad his addiction was. In July 2003, Stoudamire was apprehended at TucsonTuscon International Airport after attempting to pass an ounce and a half of marijuana through a metal detector. Stoudamire did eventually complete a 90-day sobriety program that year and agreed to take a drug test at any point during the 2003-04 Season. The same month Stoudamire and Wallace were arrested on Marijuana charges. Stoudamire and Wallace's arrest was followed by Ruben Patterson being arrested on a felony domestic violence charge after assaulting his wife during an argument; this was his third assault charge within three years. 2002 first-round draft pick Qyntel Woods was charged with Animal Cruelty in 2004 after staging a dogfighting ring in his house, a situation similar to Atlanta Falcons' quarterback Michael Vick a few years later. This arrest ruined Woods's rising career, and he was out of the league by 2006 after stints with the Heat and Knicks. In 2004, the team acquired small forward Darius Miles from the Cavaliers, where issues would immediately pop up. Miles got into a heated confrontation with head coach Maurice Cheeks during a practice, where Miles called Cheeks the N-word and told him he would get fired. Cheeks was fired that season and replaced former Seattle SuperSonic Nate McMillan. 
The End of an Era
by 2006, most of Portland's Jail Blazers had either left or had reshaped themselves. Bonzi Wells, Rasheed Wallace, Damon Stoudemire, and Ruben Patterson had all been traded or signed elsewhere, just to name a few. While Zach Randolph still had trouble on and off the court, he won the 2004 Most Improved Player and became one of the league's best rising power forwards. In 2003, Portland's GM Bob Whitsitt left the league to become GM of the Seattle Seahawks. The team also gave minutes to younger players like Sebastian Telfair, Travis Outlaw, LaMarcus Aldridge, and Brandon Roy, ushering in a new era. New management and likable players repaired the team's reputation with fans. While this next era didn't last long (this time just due to injuries), it rebuilt the franchise. Portland made the playoffs for the first time in five years in 2008 and would continue to make it for the next three years.
What happened to the Jail Blazers after Portland?
After being traded, both Zach Randolph and Rasheed Wallace had pretty similar careers. After playing his first and only game with the Atlanta Hawks, Wallace was traded to the star-studded Detroit Pistons, who would win the NBA Championship that year and make the Eastern Conference Finals every year up until 2008. After the trade to the Pistons, Wallace made the all-star team twice and had his best years rebounding with Detroit. Zach Randolph had unimpactful stints with the Knicks and Clippers before hitting his prime with the Memphis Grizzlies. Randolph fit perfectly within the Grizzlies' "Grit and Grind" system and became one of the most feared players in the league, capturing two all-star game appearances, an All-NBA third team nod, and his number 50 in the FedEx Arena rafters. Damon Stoudamire played for three more seasons after signing with the Memphis Grizzlies in 2005 before retiring to become a coach. He is currently an assistant coach for the Boston Celtics. Ruben Patterson hopped around the league until his retirement in 2009. Patterson failed to stay out of trouble with the law after his time in Portland. He had to pay a $1,000 fine after failing to register as a sex offender in the state of Ohio after moving into a house in Cincinnati in 2007, was required to not drink alcohol for 18 months in 2010 after a DUI, and had over $100,000 in unpaid child support debt up until 2019. Sebastian Telfair was traded to the Boston Celtics in 2006 in a trade that resulted in the Trail Blazers drafting Brandon Roy and then to Minnesota the next year as part of the Kevin Garnett trade. Out of all of the members of the early 2000s Trail Blazers, Telfair has been in the most off-court incidents, including getting robbed outside of P. Diddy's New York restaurant while rapper Fabolous was shot close nearby, multiple marijuana and weapons charges, as well as being apart of a million-dollar healthcare scam with former Trail Blazers teammate, Darius Miles.