The Rise of Summer Walker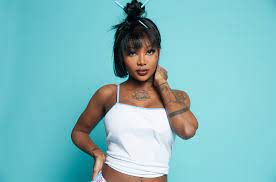 Summer Walker is a singer-songwriter, multi-instrumentalist, and model who is based in Atlanta, Georgia, best known for her collaborations with popular artists such as City Girls and Drake. 
She was born on April 11, 1996, and raised in Atlanta, Georgia. Her mother says she was shy and creative growing up. She didn't cry much and buried herself in her own world. In the solitude of her room, she composed songs with instruments that her parents had bought her. Her parents divorced later on, and she did not have an amazing childhood.
Before becoming a professional artist, she managed a small cleaning company for two years, but it wasn't generating enough profits so, she began dancing. In an interview with Spin Summer states, "I didn't know what I was going to do. Before that, I had every job you could think of. Wendy's, Five Guys, all that… I just knew that I'm not lazy and I wouldn't go broke."
Summer taught herself to play guitar by watching various YouTube tutorials. She began singing when she was fifteen years old. She was inspired by Erykah Badu, Amy Winehouse, and Jimi Hendrix. She started uploading clips of her singing to Vine before switching over to YouTube and posting covers in 2016. She was later discovered by Love Renaissance and Interscope Records. 
She signed to Love Renaissance and Interscope Records in 2017 and went on to release her first album Over It, in October 2019. It featured several popular artists such as Drake, Bryson Tiller, and Usher. She made history when her album earned the biggest streaming debut week for a female R&B artist. It peaked at #2 on the Billboard 200 chart and got certified platinum by the Recording Industry Association of America (RIAA). The album also topped the R&B Album Charts for 14 non-consecutive weeks. 
In November 2019, Summer went on tour to promote her album but later announced on social media that she was ending her First and Last Tour early as a consequence of her battle with social anxiety. Nearly 20 of the dates had to be canceled. In a social media post, Summer stated, "I'm not going to be able to finish this tour because it doesn't really coexist with my social anxiety and my introverted personality." 
Performing in front of others is very unnerving for Summer, who is very open about her crippling social anxiety. A social anxiety disorder is a long-lasting and overwhelming fear of social situations. Those with social anxiety may dread everyday activities, such as meeting strangers, speaking with other people, and working. Additional symptoms include feelings of sickness, nervousness, sweating, and an increased heartbeat. Summer has been honest about her plans to earn as much money as possible from her music career so she can quit the fame and invest in a simpler life. 
Songwriting started as an escape from her sadness. In an interview with American Songwriter, Summer states, "I would write music whenever I was sad. That was my outlet. I wasn't planning on calling myself an artist. I just felt compelled to write my thoughts down and they became songs…Writing is my way of capturing my emotion. It's a safe place for reflection for me and my way of expressing my sadness."
She won the Billboard Music Award for the Best Female R&B Artist at the Billboard Music Awards in 2020. In November 2021, she released her second album Still Over It, which broke the record for most album streams in a single day by a female artist on Apple Music. This album included features with popular artists like City Girls, Ari Lennox, and SZA. 
Her overall genre is R&B/Soul, and her music is described as raw, captivating, and magical. In an interview with Spin, Summer states, "I don't make music with the intent of anyone else hearing it. It's for me, it's as if someone were to write in a diary. I'm singing it and I'm going to be as open as I want to be because it wasn't for nobody else anyway." 
Today, Summer continues writing new music and being active on social media. She will be headlining the Broccoli City Festival which takes place in Washington, D.C, and lasts two days (Saturday, May 7, and Sunday, May 8). Some artists that will perform include 21 Savage, Don Toliver, and Rico Nasty.