Jhené Aiko's Success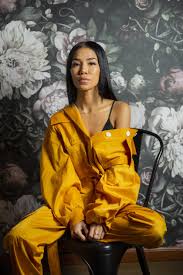 Jhené Aiko is an American R&B singer and songwriter known for her popular song "Sativa," which features Swae Lee and being involved with the 2000s boy band B2K. 
Jhené was born on March 16, 1988, in Los Angeles, California. She was also raised in Los Angeles. She has been creating music since she was twelve. At age thirteen, she signed with Epic Records and started appearing in the music videos of millennial boy-band B2K. After some time, Jhené left the label to finish school.
Since a young age, and after the death of her older brother, she had been keeping notebooks and documenting all her thoughts, like a diary. Later on, she would use all of those to help her write her songs and help her create songs and poetry books. 
Early in Jhenés's career, Sony and Epic marketed her as the cousin of Lil' Fizz, who was a member of B2K. Although they are not actually related, they grew up together and were close throughout their childhood. She worked with the group, which featured Lil' Fizz, J-Boog, Raz-B, and Omarion on many releases. She provided backup vocals and was occasionally featured in their music videos. 
In 2008, Jhené was enrolled at West Los Angeles College taking voice lessons when she became pregnant. She had her daughter, Namiko Love Browner at twenty years old. Namiko is featured on the song "Promises" which was released in 2014. 
In July 2012, Jhenés's older brother, Miyagi Chilombo, died of brain cancer at age twenty-six. Jhené created a song titled "For My Brother" for him; he died soon after hearing it. The song was meant for only him to listen to. However, it was released a while later online.   
In an interview with i-D Vice, she talks about her main influences and states, "I grew up listening to a lot of RnB. I grew up in L.A., born and raised, so Brandi, TLC, Mariah Carey, Whitney Houston. Then there was Snoop Dogg, Tupac, and Dr. DRE."
Jhené released her first full debut EP Sail Out in November 2013, which included collaborations with popular artists such as Childish Gambino and Kendrick Lamar. Her second album, Trip was released in September 2017. On March 6, 2020, she released her third album named Chilombo, which earned her three Grammy Award nominations, including Album of the Year. 
Jhené creates original sincere lyrics that resonate deeply with her listeners. She delivers simple yet poetic messages that highlight her own life and experiences. In an interview with Hypebae when the release of a movie, album, and poetry book she made is mentioned. Jhené states, "When it comes to writing, it's my way of dealing with things…When I'm writing, I'm not trying to save the world, I'm just trying to help myself, but it's a plus that people can relate to it… I just completely dug deep and said what I had to say, expressed all my pain, my doubts, all of it."
Recently, on February 13, 2022, Jhené performed "America the Beautiful" before Super Bowl LVI. She has an upcoming concert in Los Angeles, California in March. Today, she continues writing and releasing new songs as well as being very active on social media.