Sean Taylor: Lived And Died In Miami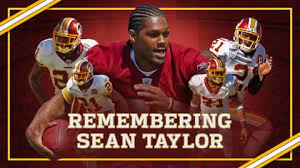 Sean Taylor was an astounding safety in the NFL and was one of a kind to watch on the field. Taylor was successfully destroying teams on the college level. Within two years of playing for the University of Miami in 2003, he was already getting offers calls from NFL teams. He was breaking college records left and right. Taylor, to say the least, was a stud.
In 2003, just two years into his college career, he was being compared to Ronnie Lott. Within this time he had 14 interceptions and 3 defensive touchdowns. The comparing statement between Taylor and Ronnie was very impressive considering that Ronnie Lott was and is still in many arguments for the best safety of all time. Sean Taylor was being compared to Ronnie because of his talent of being able to do it all on the field; he could hit real hard, he ran a 4.51 second 40 yard dash time, and he had a 43-inch vertical jump. These are all impressive talents on their own, but even more jaw-dropping considering that Taylor was weighing in at 230 pounds. 
Sean Taylor was drafted at the young age of 20, straight out of his college career. He was drafted as the 5th overall pick in the 2004 NFL draft. Sean Taylor was drafted by the Washington Redskins NFL team. Sean Taylor's very first season in the NFL started off strong, with 4 interceptions and 78 tackles.  Coming from a rookie safety, his plays were highly impressive. That was the moment everyone started buzzing about Sean Taylor. There was a high expectation that he was going to be a good player coming out of college, but no one knew how great he would turn out to be. Sean Taylor played 2 more full seasons from (2005-2006) with the Redskins and in those seasons he had 3 interceptions and 186 tackles, leaving him on a pretty high note with the Redskins that year. 
With this young star's bright future ahead of him it was sadly cut short. Sean Taylor was only able to play 9 games in his 2007 NFL season before being murdered in his home. Taylor was never the person or athlete to be suspected of such an awful event. Eric Rivera, Sean Taylor's murderer, saw him gift his sister 10,000 dollars cash at a birthday party. Eric saw this as an opportunity to rob Taylor's house and get some 'easy cash,'  then they would leave, with nobody harmed. Although the plan was a crime in itself, it took a turn for the worse. Eric expected Sean Taylor to be gone from his house because he had a game that night, so the plan was expected to run smoothly. An unfortunate turn of events left Sean Taylor with an injury so he didn't fly out with the team, and ended up staying in his Miami home with his family for the night. When Eric broke into the house, he went into Taylor's room, shocked to see him and his wife and his baby daughter all there. In a panic, Eric shot Taylor in the groin and took a second shot at their window to escape. Taylor was quickly taken to a hospital but was found to be bleeding out of his femoral artery. On November 27, 2007, Sean Michael Taylor took his last breath and sadly passed away. 
There were a lot of questions raised after Sean Taylor's death, but none ever had a definitive answer. It was a sad day for football fans everywhere to watch one of the greats go before he could blossom. As for his killer, Eric Rivera ended up getting sentenced to 57 years in prison. After all, was said and done, the Washington Redskins, in their next game had only 10 of the 11 eligible men on the field for the first play of the game in honor of Taylor. They also all wore the number 21 which was Taylor's number. Even though there is no way of telling, Sean Taylor had a possible hall of fame career taken, as well as his life in his own hometown.