The Gabby Petito Case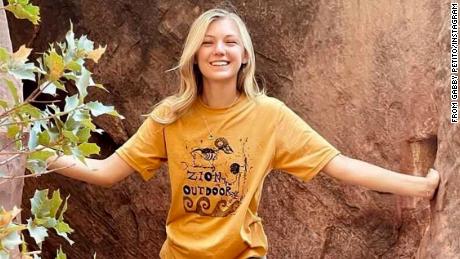 Gabby Petito was a 22 year old woman who was a famous Tik-Toker and Instagram star. She was most famous for traveling in her van. She often used the hashtag "VanLife" or "Vanlifer,"  so it was no surprise when Gabby Petito told her fans she was going on a trip. She was going on this trip with her boyfriend Brian Laundrie. It was supposed to be four months long. This was going to be a cross-country trip. They were going to visit national parks. They planned on sleeping in Gabby's van. They planned on documenting their travels on their Instagram and Tik-Tok.
Gabby's relationship with her boyfriend Brian was complicated. They fought a lot and even broke up a couple of times, but they always said they were "taking a break." Then, they announced that they were getting married. They seemed to be a happy couple on Tik-Tok and Instagram. However on August 12, a call was made saying that Brian and Gabby were fighting "aggressively" in front of a store. That same day, a cop pulled over Brian and Gabby. It looked like they had been fighting. Gabby was crying and Brian seemed to be angry. The cop let them go with a ticket because Gabby hadn't said anything about domestic violence.
The trip seemed to be going fine until Gabby started to act weird on her Instagram. Gabby was known for writing something long, and adding a whole bunch of hashtags on her pictures. However in her last picture she posted, she wrote "Happy Halloween" with two emojis. She also would FaceTime and text her parents often, but according to her parents, she stopped. The last text she had sent them was that she had no service where she was staying, but her parents say it didn't sound like her. They don't think she was the one to send those texts. It wasn't like Gabby to just stop texting her parents.
This trip was supposed to end sometime in October, but on September 1st Brian came home early in Gabby's van but without Gabby. Before he got all the way home, he went and got an attorney. Even though Brian came home September 1st, Gabby wasn't reported missing until September 17th. When the cop went to Brian's parents' house, where Brian was staying, he wasn't there. They asked his parents where he was and they said "No comment." They then asked if they could go inside and have a look around and to see if Brian was there. His parents also responded "No comment." They then gave the cops the number of Brian Laundrie's attorney. 
So the search for Brian and Gabby began. Gabby Petito's body was found on September 19 in Wyoming Park. It is believed her death was a homicide. Even though Gabi's body has been found, Brian has not. Brian's parents say the last time they have seen their son was September 14. Brian isn't missing, he is hiding, but people are saying "His face is well known, he will be found." There have been multiple protests in front of Brian's parents' house demanding to know where he is. There are angry people who want Brian in prison. The FBI are now looking for him. There has been a warrant out for his arrest. The cops and FBI believe he knows what happened to Gabby Petito or he is the one responsible for her death.