Los Angeles' Biggest Mystery: The Black Dahlia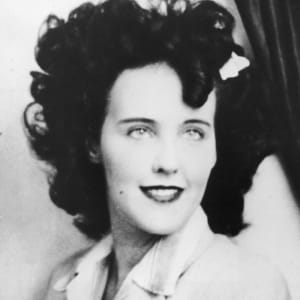 Tw: Mentions of Violence.
This case started on January 15, 1947, at 10:00 a.m. Betty Bersinger and her daughter had been out for a walk when they found the remains of Elizabeth Short in an abandoned parking lot. The victim had been cut in half, but there were no signs of blood around the body, which at first sight caused Betty to think it was a mannequin. The victim had been posed with her hands above her head and her legs were bent. After realizing what she had seen Betty took her daughter and ran. She then phoned the police who arrived shortly after at the scene.
After investigating the scene, the police sent fingerprints to the LAPD, who identified them as Elizabeth Shorts. An autopsy was performed on her body on January 16th, 1947. There were marks on her ankles, wrists, and neck, which led them to believe that she was tortured before death. The cause of death was hemorrhaging in the brain due to multiple blows to her head and face. After death the killer then did what is called a hemicorporectomy, a surgical procedure where the body below the waist is amputated and drained of blood. They had also cut a "smiley" onto Elizabeth's face stretching from the corner of her mouth to her ears. Then the killer dumped the body in an abandoned parking lot and took off.
Elizabeth Short was born on July 29, 1924, in Massachusetts. She lived in Maine and Florida before coming to California. In 1943 she was arrested for underage drinking at a bar and was sent back to Massachusetts, but she instead went back to Florida only making occasional visits to Massachusetts. She went back to Los Angeles in July 1946 to visit her friend Joseph Gordon Fickling, who was in the air force and she'd met him in Florida.
On January 24, 1947, the killer mailed an envelope to the Los Angeles Examiner, and other newspaper companies. The letter included cut outs of letters from newspaper articles, it read "Here is Dahlia's belongings." The envelope consisted of: business cards, an address book, her birth certificate, photographs, and names written on a piece of paper. All of the contents had been cleaned with gasoline leaving no fingerprints to trace back to the killer. 
Due to the surgical procedure the killer performed on Short's body the investigators suspected someone that could have been in the medical field. They performed many investigations on medical schools and people attending them, but were still no closer to solving the case. Many people went to the authorities claiming that they were the murderer which made it very difficult for investigators. They investigated each person individually but each person proved to be lying.
There have been tons of suspects over the years but there has never been enough evidence to charge someone. A lot of people believe that this case was never solved due to the media's interference and tampering with evidence. There are still investigators working on trying to uncover more evidence after all this time, but since it's been so long most of the evidence is gone and the killer is most likely dead. The Black Dahlia case is one of the most infamous unsolved crimes to this day and it may never be solved.
For more information regarding this case read here at crimereads.com